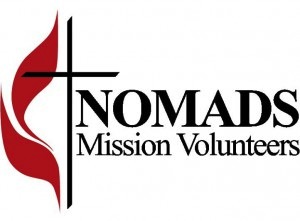 MINOT -- So far, 20 teams of NOMADS have signed up from April to September to help Hope Village rebuild Minot.
The NOMADS project originated in 1998 in when a group of Methodists from Illinois, Indiana and Iowa who were wintering in Texas got restless and asked the local churches if there was something they could do to help.
According to the NOMADS website, www.nomadsumc.org, the initial group of 24 completed five projects in Texas and Oklahoma.
As membership grew, the RV-driving organization incorporated in 2001 and contracted a full-time program administrator.
The NOMAD mission offers year-round projects and expanded to disaster relief after Hurricane Katrina affected the Gulf Coast in 2005.
In 2011, the NOMADS worked on five disaster relief projects in Mississippi, Texas, Indiana and Iowa and donated 10,000 hours of labor to United Methodist organizations.
NOMADS do new construction, remodeling and repairs for churches, children's homes, camps, colleges, outreach missions and disaster rebuilding.
Last year, four teams worked on homes in Minot, and starting in April, the NOMADS will arrive in force to help rebuild the Souris Valley in North Dakota.
"We're excited to see a new group of people coming and being a part of the rebuild in Minot," Hope Village's coordinator Steve Carbno said.
Teaming up with the NOMADS will greatly assist Hope Village in its goal to assist in the rebuild of 500 homes that were flooded in 2011. The FEMA level-5 disaster damaged a quarter of the city's housing.
Since its opening in April 2012, Hope Village has had 265 volunteer teams and a total of 2,231 volunteers who have donated 83,444 hours of labor toward the rebuild.