By:
Doreen Gosmire, director of communications, Dakotas UMC
The Toy Lending Library of South Dakota is reaching more people in new locations thanks to a partnership with First United Methodist Church in Sioux Falls, South Dakota.

"Our vision statement at First UMC is, 'To be a sanctuary of Christian hope, love, and encouragement in the heart of Sioux Falls.' We like to partner with community organizations in ministry. The Toy Lending Library of South Dakota is an example," said Tami Prostrollo, who works to coordinate ministry partnerships at First UMC.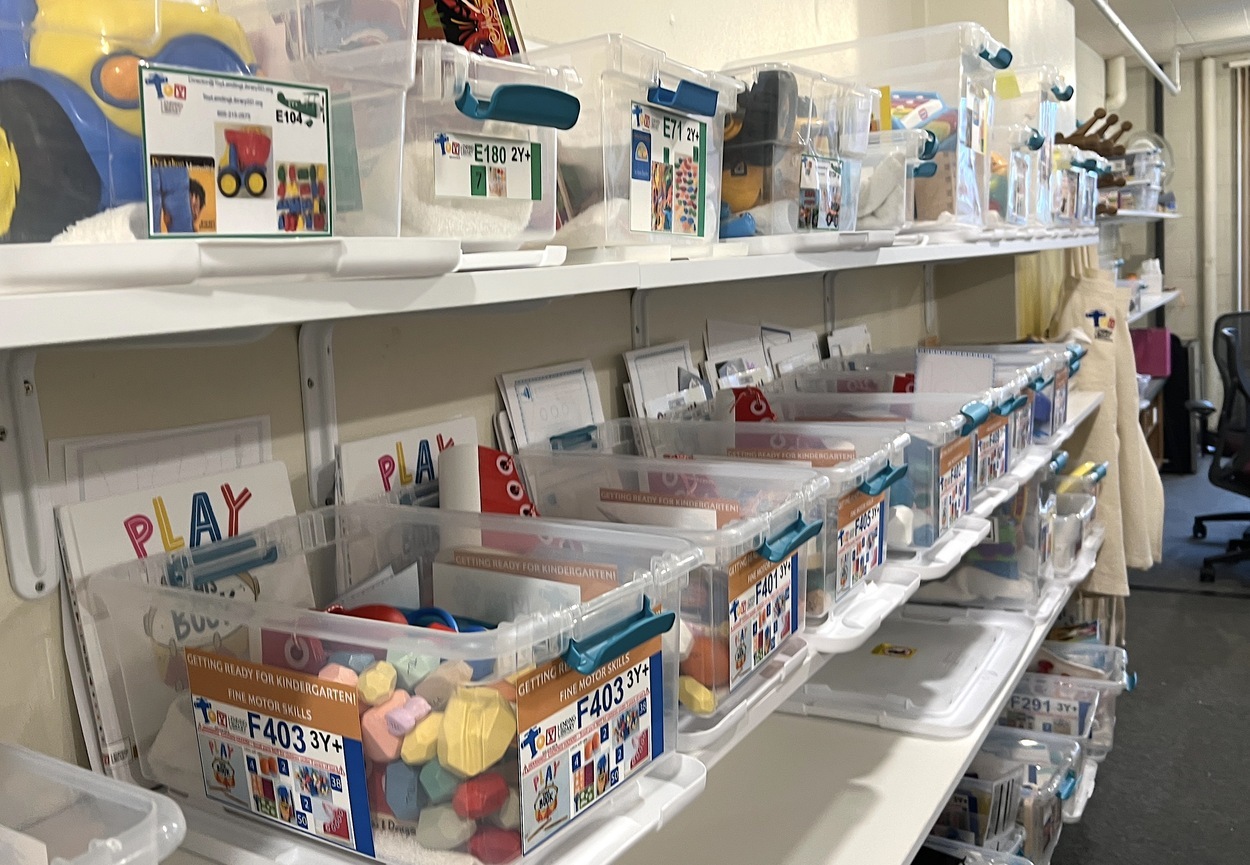 Anyone can check out a box from the Toy Lending Library in the church library at First UMC. They also provide the space for the Toy Lending Library of South Dakota operations for a dollar per year. In addition, the congregation provides the utilities and access to the computer network.

"One day, Anelis [Coscioni] came in and asked if space was available. So we offered the space for the Toy Lending Library for a one-dollar a year," said Prostrollo. "Their goal is to reach the Sioux Falls Community and beyond. That is our goal. We don't want to reinvent the wheel. They are community-minded."

The Toy Lending Library of South Dakota is expanding to other communities. "They are reaching out to communities throughout South Dakota to make a difference in the lives of children and impact the development of children," said Tami. "Their reach extends beyond Sioux Falls to other cultures and those with special needs."

"We have operated out of three locations in Sioux Falls," said Greg Wood, an employee at the Toy Lending Library. "We started at the church in one room. Then, when the preschool left, we could move into several rooms. It is wonderful. We have been blessed. The church has been incredible."

United Day Care had operated at First UMC in Sioux Falls, but closed its doors in the Fall of 2022, creating the vacancy that is now the Toy Lending Library of South Dakoa.

"We are growing swiftly. This space is really where it all happens. We create, label, and process all the boxes here at this location," said Woods. "When the boxes are returned, the toys are cleaned and sanitized. Items are repaired. We check all the time for toy recalls. We also recycle boxes. Sometimes a box ages out—no one wants to check it out because it isn't cool anymore."

The Toy Lending Library of South Dakota creates opportunities for children from newborn to five years old to enhance their learning development through play. How does that happen? Caregivers of children of that age group in South Dakota can check out toy boxes containing a toy, a book, and educational fliers from one of 14 locations, primarily libraries, free of charge. They take the box home and play. Then, return it and borrow more.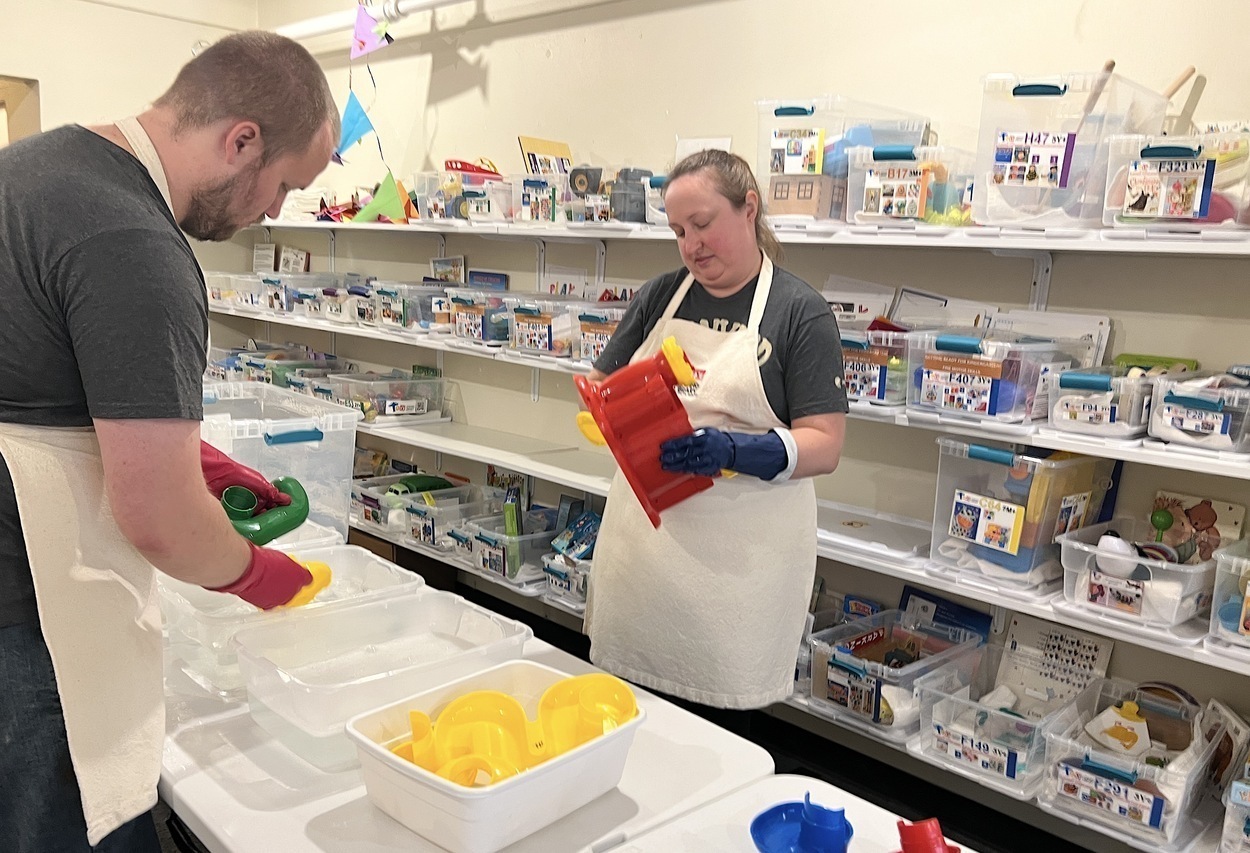 Toy libraries have become a trend as parents realize the convenience, sustainability, cost savings, and benefits of borrowing toys rather than purchasing them. According to the USA Toy Lending Association, there are about 400 toy lending libraries in the United States.

Anelis Coscioni worked with the Soroptimist Club of Sioux Falls to start the Toy Lending Library in 2015 after learning about the need. Several families in the downtown area of Sioux Falls didn't have toys for their children to play and learn. The former veterinarian from Brazil loves to meet the caregivers and children that come through the nonprofit's doors.

"Our vision is to expand to locations in the state," Coscioni shared in a recent newsletter, "Since the organization's start in 2015, our toy boxes have been borrowed or renewed more than 16,000 times."

Used or new toys can be donated. Volunteers check all donated items for recalls and sanitize each item the library lends out. It currently has more than 1,100 toy boxes in circulation.

"We take gently used toys, new toys, funds, donations are welcome," said Wood. "We create boxes people want to check out and promote skill development."

Every box is labeled on three sides. Greg Wood takes a photo of the toy box and catalogs each item with an alphanumeric code. There are eight age categories from ages 0-5+ years of age. Boxes are also categorized by skill area—auditory, colors, communication, cooperative play, fine motor, gross motor, independent play, letters, memory numbers, physical, pretend play, sequencing, shapes, and social skills. Another volunteer, Richard Crawford, makes braille labels for each toy box.

Andrine Stichers works with the donations as a volunteer. She records each contribution in a software program and sends thank-you letters.

"I call myself the printer wrangler because one of my jobs is to make sure the printer prints," said Andrine. "I do anything Anelis asks me to do. We are lucky to have paid employees now—our director, Anelis, Greg, who creates the boxes, and Tara Schramm, our operations director."

Schramm works with Anthonee, and other volunteers, to process each returned box, check it for repairs, clean each toy in each box, and ensure that the box is ready to be checked out. Then, the "ready" boxes are put in an area to be checked out by an individual or one of the locations.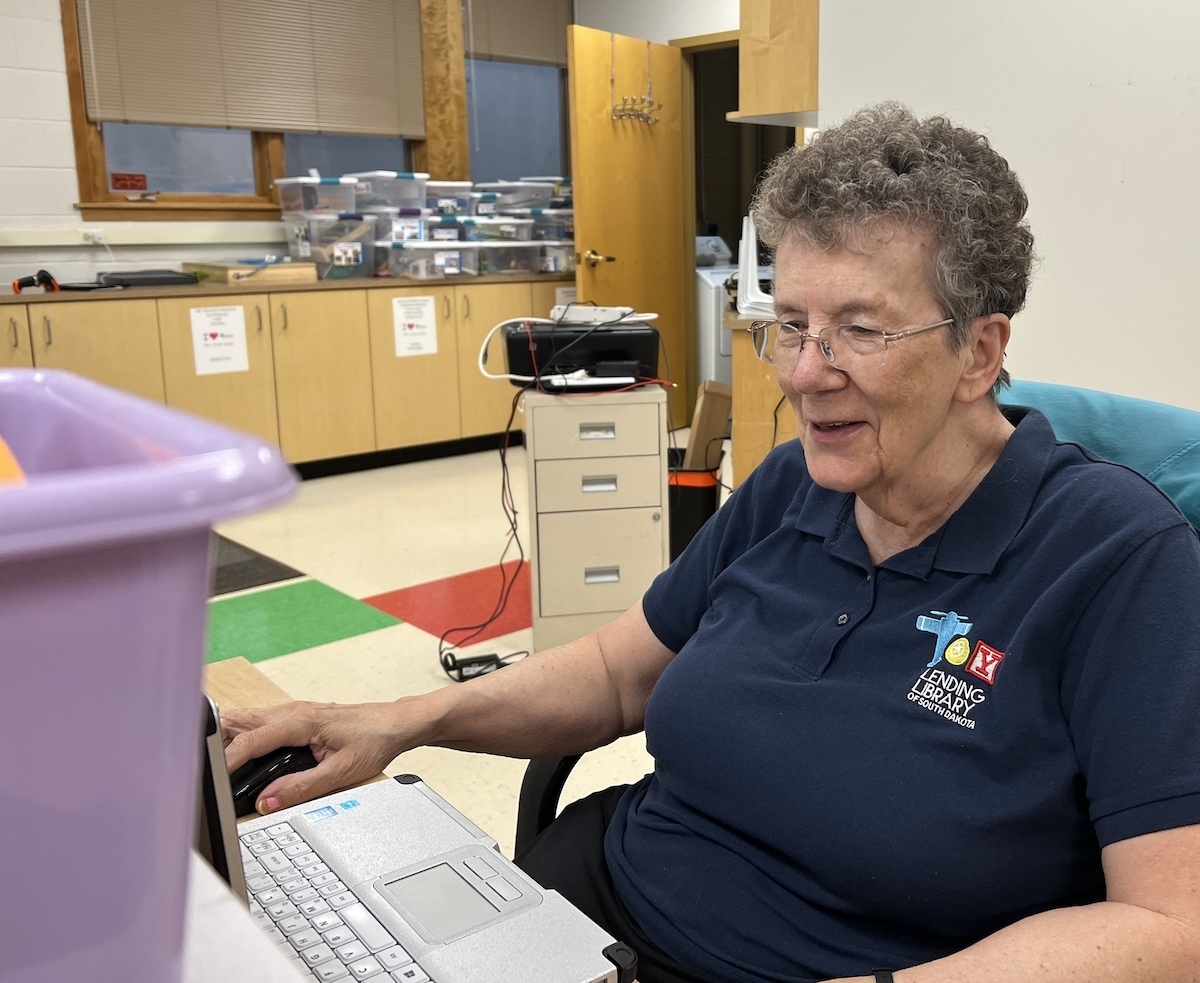 "Things are skyrocketing right now. The space enables us to increase the number of volunteers, the number of boxes, and the number of locations," said Schramm. "It is an exciting time right now. A lot of growth."

The space at First UMC allows everything to happen at one location—accepting donations, creating new boxes, washing toys, processing the toys, and checking in and out boxes. In addition, a new washer and dryer have been installed.

Each month First UMC defines a partner ministry to learn more about and collect donations. April's 'Love the 605' was the Toy Lending Library (TLL). The TLL held an open house for members of First UMC. Members of First UMC collected funds for the toy washing station and encouraged members to volunteer at the TLL. Additionally, proceeds from First UMC United Women In Faith's Spring Fling were donated to the TLL.

"It is exciting to see the growth," says Prostrollo. "This is a ministry that other churches can donate to, provide a place for checking out boxes, and transport boxes from Sioux Falls for check out. We are excited about this ministry partnership."