THIS WEEK
Pray with us | June 8-14
   Lord God, I pray for Your protection as I begin this day. You are my hiding place, and under Your wings I can always find refuge. Protect me from trouble wherever I go, and keep evil far from me. We pray for all of God's people, but especially these persons.

Soul Fill-up | Wednesdays 8 a.m. mountain time, 9 a.m. central time 
    Soul Fill-up is a mid-week time for church leaders to slow down. Let us pour into your soul and refill your cup during guided scripture reading, prayer, and meditation led by the Higher Ground program's spiritual directors. There is nothing to do or prepare—just set this 30-40 minutes aside for yourself and join us! Click here to join, Wednesdays at 9:00 a.m. central time, 8:00 a.m. mountain time.
2021 ANNUAL CONFERENCE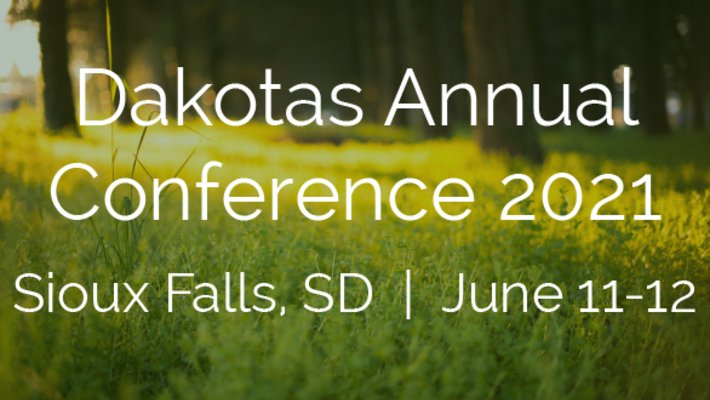 Welcome and prayer for the 2021 Dakotas Annual Conference | From Bishop Laurie Haller
   Bishop Laurie Haller, interim bishop for the Dakotas Conference, welcomes all to the 28th session of the Dakotas Annual Conference. "Our theme for Annual Conference 2021 is 'Jesus. Waymaker.' Time and time again Jesus has shown up and made a way when there was no possible way in human reasoning or power." Bishop Laurie offers a prayer for the 2021 Dakotas Annual Conference. "O Creator and Redeemer God, in a few days we will gather in your presence and as your faithful disciples at the 2021 Dakotas Annual Conference."  View her video welcome and read the prayer.
Pre-Conference Gatherings | Videos and resources
    Registered delegates to the twenty-eighth session of the Dakotas Annual Conference spent time learning about various legislation they will be considering at the business sessions happening on June 11, 2021, at one of the four Pre-Conference Gathering sessions held on May 20, 22, 23, and 26. Jeff Pospisil moderated the session with Rev. Rebecca Trefz. Pospisil and Trefz guided participants through presentations including the 2022 Budget Proposal, a report from the Board of Pensions, items on the Consent Calendar, a report from the Committee on Nominations, and an overview of the two proposed resolutions. Watch the video presentations and review the questions and responses.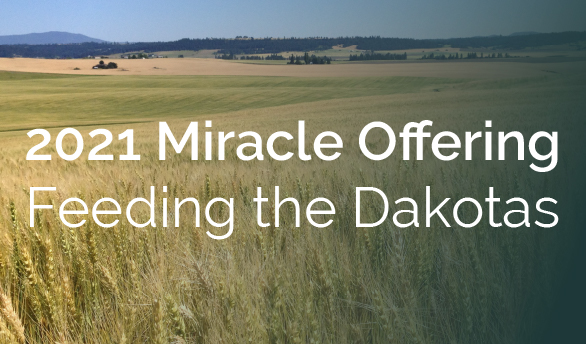 2021 Miracle Offering | Feeding the Dakotas
   The 2021 Miracle Offering: Feeding the Dakotas is a hope-bringing, spirit-fueled activity that will have a lasting impact on thousands of hungry people across North and South Dakota. Our goal for the 2021 Miracle Offering is $75,000 to be shared with the Great Plains Food Bank in North Dakota, Feeding South Dakota, and grants to local hunger ministries.  Access resources for the 2021 Miracle Offering.  
Watch worship live 
     You can watch the three worship services that will happen at the 2021 Dakotas Annual Conference live. View Opening Worship, Friday, June 11, 2021, starting at 8:25 a.m., Bishop Laurie Haller will deliver the Episcopal Address. The Celebration of Life in Ministry Service willbe held on Friday, June 11, 2021,  at 7 p.m. here.  Closing worship will take place on Saturday, June 12, at 4:30 p.m., view the service here. 
COMING UP
CAMP IS BACK! SPRING 2021 CAMP APPEAL
    We are excited to return to offering summer camp and we are confident that our campers will be safe. Yet there is still much unknown in 2021 and your help is needed. Please consider a financial gift to your Dakotas and Minnesota United Methodist Camp and Retreat Ministries. A gift to your camping ministries helps to ensure our United Methodist Camps, places special to so many, will be available and remain a part of our world for years to come. Get the details here.

Builders Club |  Call for Journey at Spirit Lake 
     Builders Club supports the building projects of four churches each year through the donations of hundreds of people across the Dakotas Conference. Builders Club's goal is to assist churches in need of financial support for their building, remodel, or expansion projects. Providing support for churches' building projects allows them to grow current or begin new ministries.  The recent Builders Club call asks individuals and congregations to support the Journey at Spirit Lake.  Join | Donate online

Investing in Leaders Grant | Apply by Aug. 1
     the Investing in Leaders Grant is part of the Financial Well-Being Initiative funded through a Lilly Endowment Grant. This $5,000 annual grant to reduce educational debt is open to all active clergy in the Dakotas-Minnesota Area. Applicants must complete a course of personal financial education.  Learn more about the grant by viewing the application.  Contact Diane Owen for more information and any questions.
RESOURCES AND ANNOUNCEMENTS
Zoom license reduced fee | Get the details
    If your church isn't already using Zoom or currently has a month-to-month Zoom plan, you can be a part of United Methodist Communications' group Zoom Enterprise-level web conferencing license through April 19, 2022! There are reduced-cost and no-cost options.

Building a Beloved Community | Minnesota UMC's 9-week video series
     This nine-week video series consists of personal reflections shared by a diverse group of Minnesota United Methodists. Each video can be watched alone, or set up a small group to watch and discuss each one in a group setting. A small group study guide accompanies each video. 
JOB ANNOUNCEMENTS | ADS
Dakotas Conference | Church Planter-New Congregation Developer
     The Dakotas Conference is seeking a planter/new congregation developer!   The opportunity exists in a college town in partnership with a center city UMC church that seeks to form a relevant new worship and discipleship community for young adults and new people.  Best applicants have entrepreneurial gifts, disciple making experience and an evangelistic heart.   For details, please contact ben.ingebretson@dkmnareaumc.org.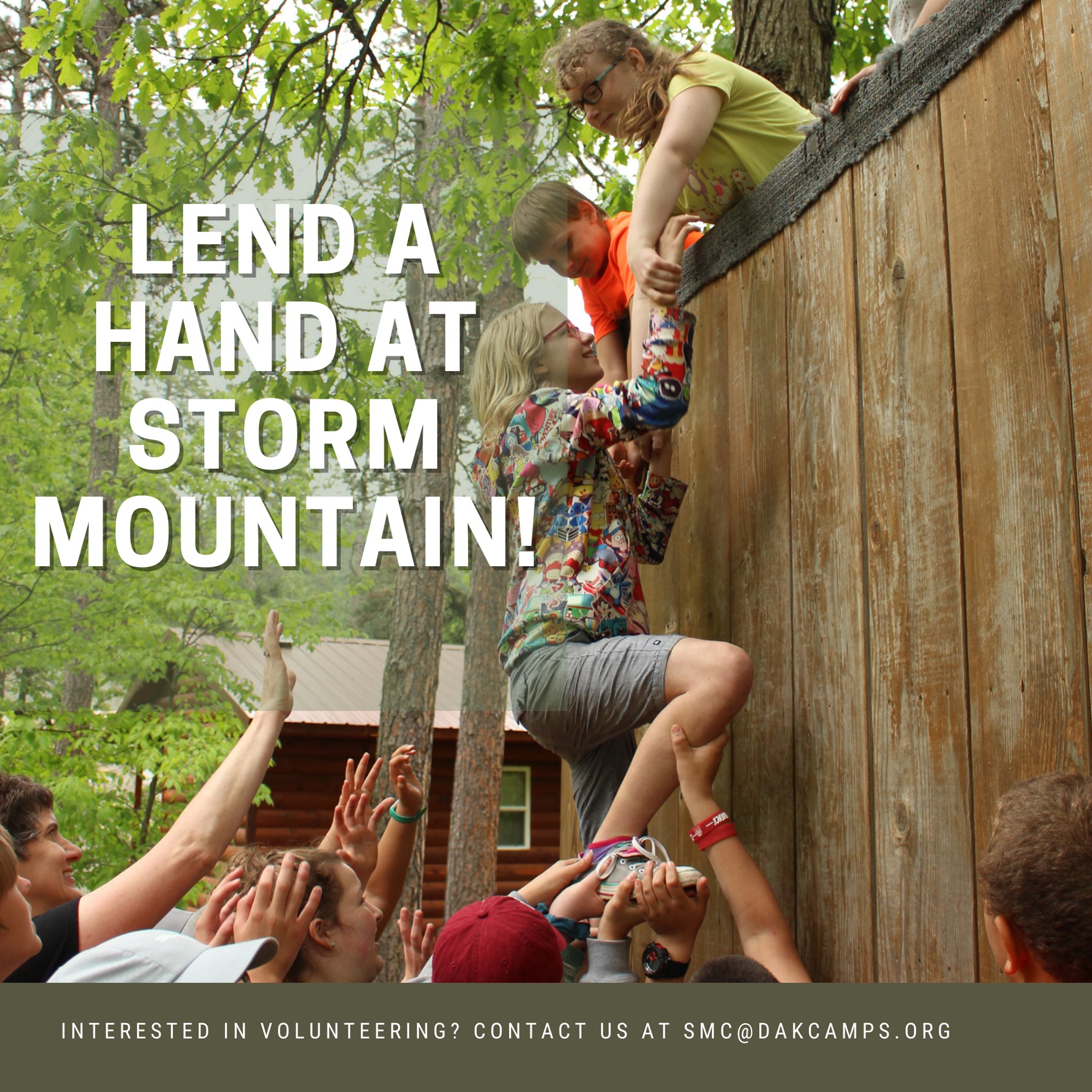 Work at camp! | Apply here
     Your summer adventure awaits! Come work at camp this summer! You will make a difference! Calling adventurers, Christ-seekers, gardeners, and cooks! Are you wondering what the summer will hold and eager to make a positive difference in someone's life?  Be bold- apply to work at Storm Mountain today! Apply online. Please reach out if you would like more information. call 605-343-4391  or e-mail smc@dakcamps.org. 
Mitchell Downtown First | Family Ministries Coordinator
    Job description: In this full-time role, the Family Ministries Coordinator will oversee all discipleship ministries for birth through young adult; reach out to families both within the congregation as well as those in the surrounding community; and recruit, train and deploy volunteer discipleship staff for Children's and Youth ministries. We are looking for someone who will consider this a ministry and not just a job. Access details
Canyon Lake UMC | Director of Youth and Young Adult Ministries
    Canyon Lake UMC in Rapid City is seeking a full-time director of youth & young adult ministries.  Come join our generous, fun, collaborative team in the beautiful Black Hills!  Click here for job description and more info.  Contact Pastor DeAnn Eidem at deann.eidem@clumc.com. 
Asbury UMC | Director of Youth and Young Adult Ministries
    Asbury United Methodist Church in Sioux Falls, South Dakota, is currently accepting applications for a Director of Youth and Young Adult Ministries. The Director of Youth and Young Adult Ministries develops, directs, and evaluates the youth/young adult education program with the goal of making disciples for the transformation of the world at Asbury United Methodist Church. This is a 20-hour per week position. A full job description can be found here: http://sfasbury.org/about-us/staff-openings. Please email a resume to info@sfasbury.org or mail it to the church at 2425 S Western Ave, Sioux Falls, SD 57105.