Rev. Kermit Culver has lived out his call in ministry through his personal mission statement—empowering others to love God authentically. "My greatest joy is helping people figure out what God wants to do with their life," says Culver. He first sensed a call to ministry at the age of 16 when someone invited him to give his life to Jesus. After 43 years in ministry, Pastor Kermit lives with a passion and spirit of evangelism. "I love what Jesus has done for me. I don't want to keep that to myself. I want other people to have and experience what I have."
Rev. Kermit Culver currently serves as the Northwest District Superintendent for the Dakotas Conference, and will retire on July 1, 2020. Read more about Rev. Culver's ministry journey here. Read a pastoral message from Rev. Culver here.
---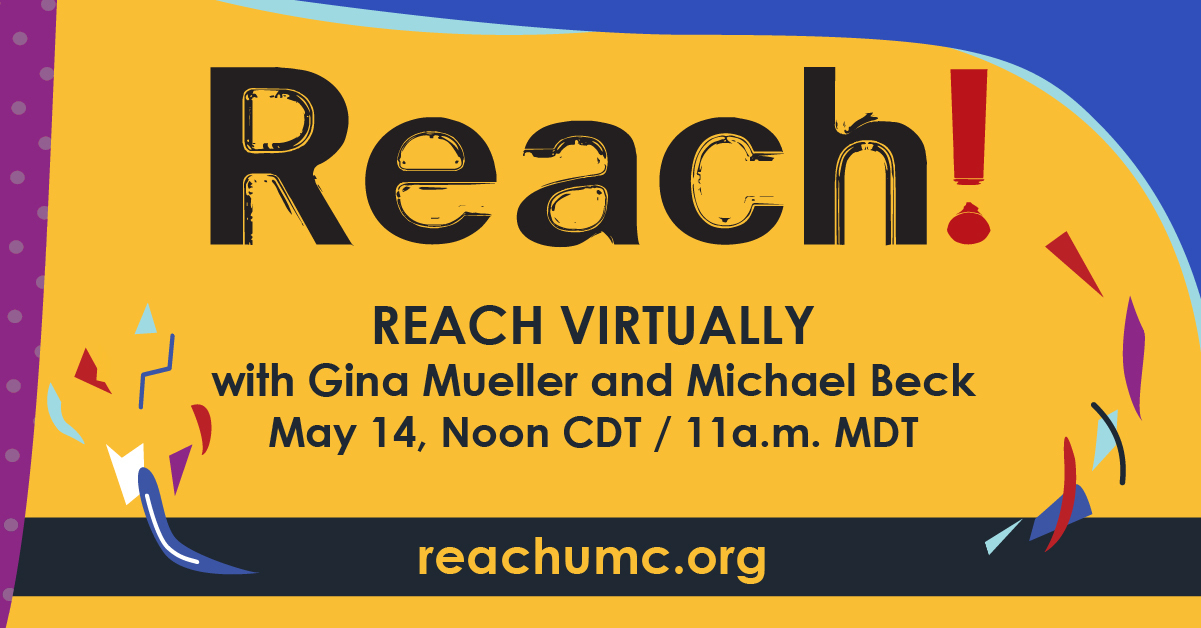 Pray With Us | May 12-18
Jesus, where there is hatred and anger combat it with truth wrapped in love. May you give us the hope we need this week. We pray for all of God's people, but especially these persons these persons.

REACH! Virtually | May 14
REACH! is going virtual! Join us for a series of seven free webinars that will grow your abilities to reach people. Gina Mueller and Michael Beck will lead the first webinar, REACH VIRTUALLY: Pivoting to lead a scattered church and engage new people with good news." Registration for the May 14 session is open. Learn more and register | Watch promo video

Higher Ground Soul Fill-up and Lunch Chat | May 13
Please take care of yourself! Join Soul Fill-up on Wednesdays, at 9 a.m. Central Time, 8 a.m. Mountain Time, and take a moment to breathe, be still, and feel how much we care about you, join here. Be part of the Lunch Chat on Wednesday, May 13, with Stephanie Moore and Leana Stunes, on the topics of Self-Care and Self-Compassion. Join us here for a time of learning, chat and discussion.
Clergy candidate forum | May 19, 1 p.m.
Do you have candidacy questions? Please join the Board of Ordained Ministry Registrar, Rev. Sara McManus, for the monthly open candidacy forum . Join via UMConnect at this link, to ask questions about candidacy, commissioning and ordination. Bring your questions, or just join and listen to the discussion as other questions arise. Click here to join the candidate forum.

Parish clergy assessment | Due June 15
As the appointment year comes to a close, pastors are asked to meet with their S/PPR Committees to complete the annual clergy/church assessment forms. You can access that form here. We request that the clergy/church assessment forms be submitted by June 15. If you have questions, contact Bea Stucke by e-mail.
Clergy self-assessment | Due July 1
Each year clergy are asked to complete a self-assement. You can find the clergy self-assesment form here. Clergy are aske to complete the self-assessment by July 1. If you have questions, contact Bea Stucke by e-mail.
NEW! Investing in Leaders Resource Grant | Applications due August 1
Our Area's financial well-being initiative (funded by our grant from Lilly Endowment) is launching the Investing in Leaders Financial Well-being Resource Grant effective May 2020. The grant offers up to $5000 towards education debt reduction. Eligible clergy will have been under appointment for at least one year on August 1, 2020, which is the deadline for the application. Direct questions to Diane Owen, area program director, here.
Non Profit Church Leadership Certificate Program | Applications due May 15
As pastoral leaders, you are navigating unchartered waters, learning new and virtual ways of being church for your congregations and your community. We recognize that your own professional development may be focused on leading differently today. However, you still need the competencies provided through the Nonprofit Church Leadership certificate program as we move through, and past, the impact COVID-19 will have on our individual and collective lives. More than ever, we encourage you to strongly consider applying for the NPCL program as part of your essential leadership development. Read about the three adjustments we have made to the NPCL program to give you time and space to pursue this opportunity. Read about two leaders' experiences here. Read how the program is making a difference for leaders and their congregations in the impact statement from Dakota Wesleyan University here. The application deadline has been moved to May 15. Apply here.
---
Job Announcements| Fargo First UMC
First UMC in Fargo, ND has an opening for a full-time Director of Children's and Youth Ministries. For a full job description or to apply, visit www.firstumcfargo.org and see 'About Us, Job Openings.' For questions, call 701-232-4416 or email us at fargofirstumchiring@gmail.com.
Job Announcements| Piedmont Grace UMC
Grace UMC in Piedmont, SD is in search of two gifted and passionate individuals for a Children's Ministry Coordinator position and a Youth Ministry Coordinator position. These two ministry areas have seen exciting growth, transformation, and fruit in recent
years. For more information or to apply, contact Pastor Karl Kroger or visit Indeed.