Pray with us | September 15-21
Lord, may we see you in all we do. All glory goes to you. We pray for all of God's people especially these persons.
3 ways to prepare for AC 2020 | Access details
It's time to register and prepare for the virtual 2020 Dakotas Annual Conference Session, scheduled for 10 a.m. -12 p.m. and 1-4 p.m., CDT, October 10. Aug. 29. All voting members are asked to register, participate in a pre-conference event to review legislation, as well as a technology and procedural orientation. The Annual Conference Session itself will open with worship, the episcopal address and the 2020 Miracle Offering. Here are details on the three ways you can get ready for our virtual annual conference. Access the Conference Workbook | Register
Celebration of Life in Ministry Service | September 18, 2020 7 p.m. CDT
The Celebration of Life in Ministry Service, a time when we honor retirees, remember those who have left this earthly home this past year, recognize licensed pastors in ministry, and commission clergy, will be held on September 18, 2020, at 7 p.m. CDT. The service will be live streamed so that people can watch remotely. The service will also be re-broadcast on October 9 at 7 p.m. CDT. View live stream | Access worship booklet
Soul Fill-up | Join us September 16
Soul Fill-up is a mid-week time for chruch leaders to slow down. Let us pour into your soul and refill your cup during guided scripture reading, prayer, and meditation led by the spiritual directors of the Higher Ground program. There is nothing to do or prepare - just set this 30-40 minutes aside for yourself and join us! Click here to join, Wednesdays at 9:00 a.m. central time, 8:00 a.m. mountain time.
REACH SOMEBODY: 6 ways to recover evangelism in the church
Rev. Matt Miofsky presented 6 ways to recover evangelism in the church during REACH SOMEBODY! on September 10, during a 90-minute webinar. Matt is the founding pastor of The Gathering in St. Louis, one of the fastest-growing United Methodist churches. Matt shared how to re-capture the simple practice of testimony in ways that people who are curious about our faith can hear. View recorded webinar | Access resources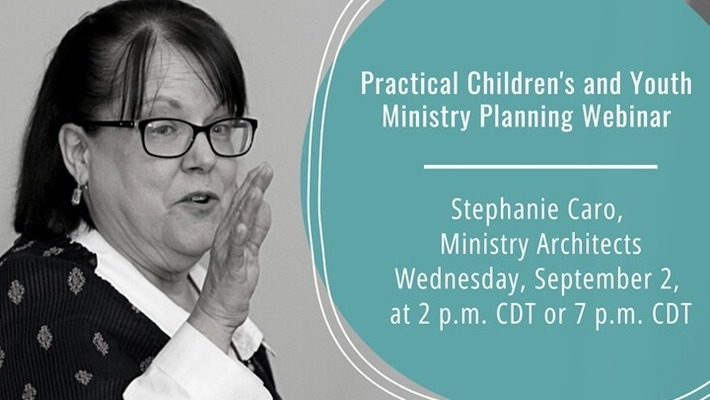 Stephanie Caro webinar: Tips for launching your children's and youth ministry this fall
Stephanie Caro, a senior consultant at Ministry Architects, held two webinars for more than 60 church leaders. "We are all struggling with ways to deliver children's and youth ministry during the COVID-19 pandemic," said Caro. "We need to find a way to have a fabulous experience and stay safe." Caro emphasized to those in attendance to be creative. Choose one event a month that will invite children, youth, and everyone to connect and grow in faith. Here are a few ideas she presented. Read more | View recording
Campfire challenge | Mitchell Downtown First UMC
Downtown First UMC in Mitchell, South Dakota, is going to log miles walking, running and biking for the months of September through October. They are asking people to pledge or give funds; so much per mile, or per circuit, or just a donation for our Dakotas United Methodist camps. "We're going to see if we can circle the camps—or log 1,100 miles by our walking, running, or cycling," says Pastor Keith Nelson. "We are challenging other churches in the conference to join us." Get the details.

Builders Club | Call for Hilltop UMC
Builders Club supports the building projects of four churches each year through the donations of hundreds of people across the Dakotas Conference. The goal of Builders Club is to assist churches in need of financial support for their building, remodel, or expansion projects. By providing support for the building projects of churches, it allows them to grow current—or begin new—ministries. Individuals and congregations are called to support Hilltop UMC. Join | Donate online
Telling the old story, in a new time | webinar with Jason Moore
Take your online worship and digital ministry from good to great! We had such a positive response for our April webinar with Jason Moore, from Midnight Oil Productions, we have invited him back for a follow-up webinar! This webinar has some of the same content, plus some new ideas and resources on how to move into the reality where virtual worship is a normal expectation. Watch the recording | Access handbook
Church of the Resurrection Leadership Institute | Online Sept. 24-25
The United Methodist Church of the Resurrection announced today registration is now open for Leadership Institute 2020, held online September 24-25. There will be four general sessions on Thursday, September 24, led by nationally known speakers uniquely positioned to address the extraordinary issues church leaders are facing in 2020 and beyond, including:
Founder of Harvard's Center for Public Leadership, Ron Heifetz; Presiding Bishop of the Episcopal Church, The Most Reverend Michael Curry; and Senior Pastor of Church of the Resurrection, Adam Hamilton. Friday, September 25, will include two breakout sessions on with 6 topics to choose from at each session, followed by live Q & A with the presenter(s). Details and registration can be found at li.cor.org. Early Bird price of $49 is available through September 1.
2020 Miracle Offering | Support our signature mission ministries
Bishop Ough invites United Methodists across the Dakotas to join the 2020 Miracle Offering. "Jesus' teaching about our being the salt of the earth and the light of the world (Matthew 5:13-16) serves as the principle scriptural inspiration for our conference's theme. Jesus instructs us to "let your light shine before people, so they can see the good things you do and praise your Father in heaven." The 2020 Miracle Offering provides the opportunity to be the light and living hope for those crying out for love, compassion, justice and grace in their lives. The goal is $60,000, to be shared among our signature missions in the Dakotas Conference: Bakken Oil Rush Ministry in Watford City, Bakken Out-In-Faith Ministry, Solar Oven Partners, Spirit Lake Ministry Center, and Tree of Life Ministry. Donate here | Read more
Women's Leadership Summitt | October 8-10
The General Commission on the Status and Role of Women is also hosting a virtual conference called the I AM Her Women's Leadership Summitt from October 8-10th, 2020. View an informational video here.
---
In our hearts | Sharlene Bambas
Sympathy is extended to the family and friends of Sharlene Bambas. Sharlene, 85, of Tyndall, South Dakota, passed away Monday, August 3, 2020. Sharlene is the mother of Rev. David Bambas, who serves at Elk Point United congregation in South Dakota.

In our hearts | Edna Ziegler
We extend our deepest sympathies to the family and friends of Edna Ziegler. Edna is the mother of Marilyn Perry, previous Dakotas Conference Chief Benefits Officer and spouse of Rev. Dr. Stephen Perry, retired.

---
Job Announcement | Legacy UMC
Legacy is seeking a Legacy Kids Director and an Assistant Director to lead the ministry from infants to 5th graders. The two positions are available to begin immediately. More information can be found @ https://legacyumc.org/jobs.
Job Announcement | Watertown First UMC
Watertown First United Methodist Church is now seeking a Director of Youth Ministry. This position is to be filled immediately, and can be full or part time with compensation dependent upon qualifications. More information and applications can be found here: https://watertownfirst.church/employment/
Job Announcement | Sunnycrest UMC
Sunnycrest United Methodist Church in Sioux Falls, SD is seeking an Administrative Assistant/Office Manager to provide administrative support to the pastor, staff and various committees. Duties include designing and publishing church materials, maintaining accurate financial records and greeting church members and visitors. Click here for job description. Seeking someone with a professional and positive manner to join this vibrant and growing church. Bilingual skill of the English and Spanish languages is a plus. Compensation will be based on experience. To apply, send your resume to office@sunnycrest.org.
Job Announcement | Madison UMC
The Madison United Methodist Church is seeking a Director of Family and Youth Ministries. Search for Director of Family and Youth Ministries is on hold due to the pandemic. However, inquiries are encouraged. We are hoping to hire later this year. View the job posting here and the job description here.