The twenty-fifth session of the Dakotas Annual Conference was held June 7-9, 2018 at the Sioux Falls Convention Center in Sioux Falls, South Dakota. More than 600 United Methodists from North and South Dakota experienced inspiring worship, meaningful learning, conducted business, and enjoyed fellowship. Here are some of the highlights.
Click here for a three-minute video of highlights from the 2018 Dakotas Annual Conference.
Click here for a bulletin insert you can download and share.
Theme: Drawing on John 15:1-17, the theme of this year's annual conference session was "Discover Joy: Live Deeply!" We focused on the pathway to a deep, well-lived life, which comes as we abide in Jesus. We connected to our collective story of how God has named and claimed us, heard a variety of "Why Jesus" stories, and explored practices that sustain us and give depth to our spiritual lives—those that allow us to discover the joy that comes when we invest ourselves in growing in our love of God and neighbor. And we celebrated the multitude of ways that we are sent into the world to live fully and offer the goodness we have discovered in living in the way of Jesus.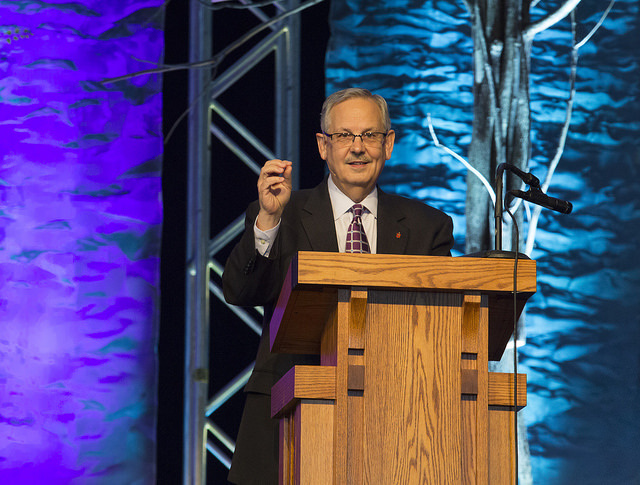 Bishop's Episcopal Address: In his 2018 Episcopal Address, Bishop Ough talked about how, when we remain in Jesus, his joy is our joy, and he explored what it means to be Love First congregations—focused on loving God and loving our neighbors. The three most distinctive characteristics of Love First churches are that they live the United Methodist way, tell their Jesus stories, and generate Love First fruit, he said.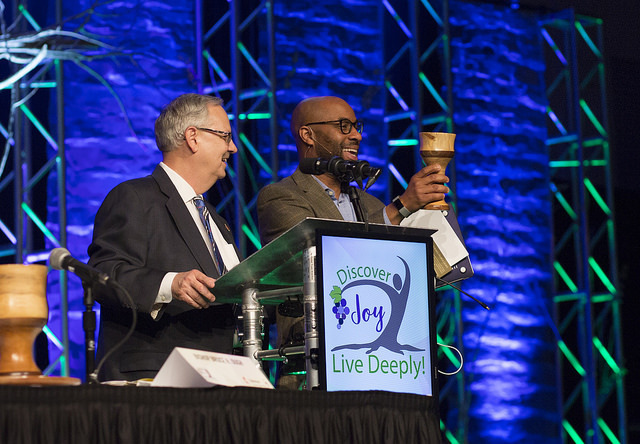 Teaching sessions with Olu Brown: In two teaching sessions, Rev. Olu Brown explored the importance of knowing, claiming, and reclaiming our personal "why" stories and underscored the critical task of staying connected to the vine so we can be inspired to transform the world. One of the worst things that can happen is for us to become "professional Christians"—doing church, worship, and prayer by the numbers, he said. He urged us to be "catalyst evangelists"—those who go before to create an opportunity or atmosphere to connect people to Jesus.

Missional Report: The Dakotas Annual Conference is reaching the next person for Jesus. On Thursday morning, Annual Conference attendees learned about how the conference and churches are creating a culture of call in a variety of settings—laity pursuing new ministry paths, new clergy growing in leadership, churches launching new services. Clergy and laity shared their God stories about answering God's call. Watch videos of Called stories here.
Lydia Project: Rev. Jim and Carol Haun invited attendees at the 25th session of the Dakotas Annual Conference to welcome guests to the 2020 General Conference, to be held in Minneapolis, Minnesota. United Methodists throughout Minnesota, North Dakota and South Dakota are invited to knit or crochet 10,000 purple scarves. This initiative is called the Lydia Project, after Lydia in Acts 15. You can find all of the details here.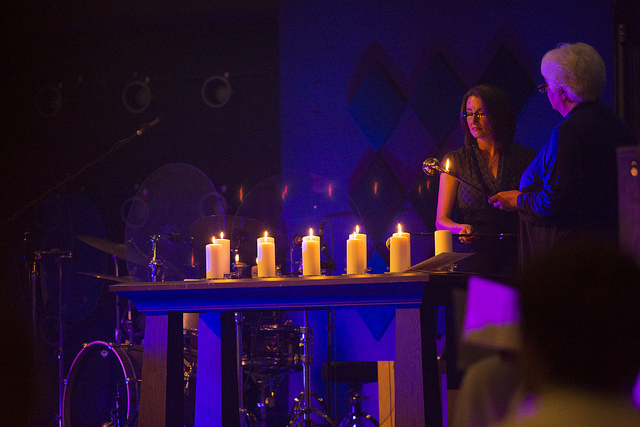 Recognizing those entering new chapter of ministry: At a Celebration of Life in Ministry worship service, Friday evening, hundreds of United Methodists gathered to remember 11 friends and colleagues who have died over the past year, honor 14 retiring clergy, and celebrate one elder being ordained, one elder being commissioned as a provisional member, and 20 newly licensed local pastors. Thanks be to God for this group of dedicated leaders!
Festival at the Canaries Baseball Park: Attendees enjoyed time in fellowship of music and food at the Sioux Falls Canaries Baseball Park on Thursday evening. Each district fielded a kickball team. The games kicked off with a barbershop quartet singing "Take Me Out to the Ball Game." The teams squared off in two rounds of games. Referees for the evening included Bishop Ough, Rev. Rebecca Trefz, Keith Shew, and Jeff Pospisil. The Southeast District team, the "Ough-megas," walked away as the victors. Listen and watch the barbershop quartet singing here. See the kickball teams lineups here.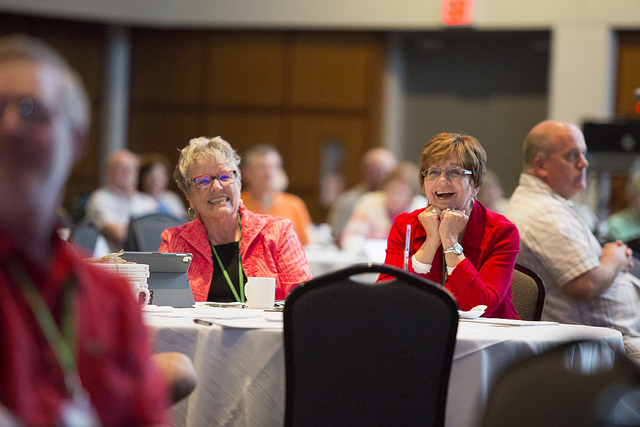 Legislation: Members of the 2018 Annual Conference Session voted Saturday to approve the 2019 budget totaling $7,306,501, a decrease of 4.4% or $319,664. They elected Rev. Rebecca Trefz, clergy delegate and Beata Ferris, lay delegate to the 2019 special called General Conference session. Rev. Roger Spahr, clergy, and Matthew Bader, laity, were elected alternates.They also voted on the 2016 General Conference constitutional amendments as amended and approved the consent calendar. View all of the items in the consent calendar in the Conference Workbook here.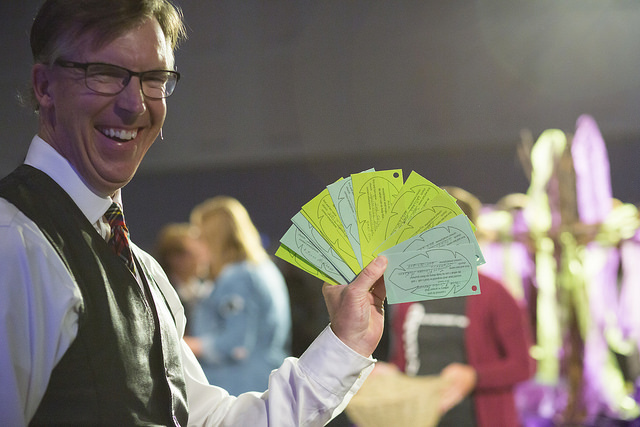 Miracle Offering: At the end of the 2018 Annual Conference, nearly $44,000 had been given to the 2018 Miracle Offering Called: One Word, Many Ways. Funds will support churches, groups, and organizations in creating opportunities to inspire and equip individuals to hear and respond to God's calling. More than 500 names were lifted up from our churches and communities These are names of people whom God is calling to their next step of faith and spiritual leadership. At the Celebration of Life in Ministry service, $2,600 was collected for ministerial student aid. If you would like to contribute to either of the offerings contact the conference office by e-mail or phone 605-996-6552. You will find committment cards, offering envelopes and other details here.
Pre-Conference Workshops: Five pre-conference workshops were held on Wednesday, June 6, in the afternoon. Topics and presenters were: Growing in Love of Neighbor: Reaching Native America, presented by Dr Susan Jennys, Colton / Chester UMC; Leadership Directions from Moses, presented by Olu Brown, Impact Church; Generosity: A Pathway to Deeping Faith, presented by Thad Austin, Indiana University's Lilly Family School of Philanthropy; and Social Holines: Methodist small group history, a cutting edge to the future, presented by Randy Maddox, Duke University.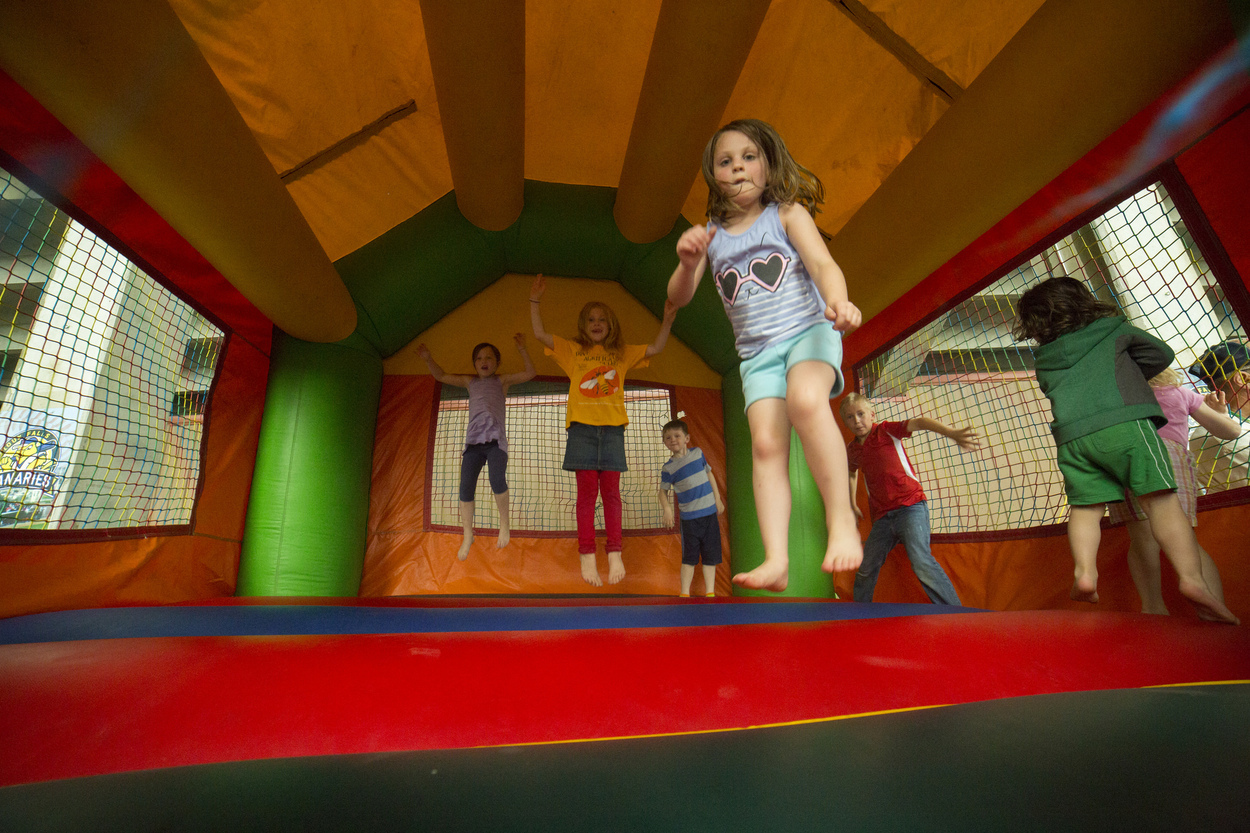 ADDITIONAL RESOURCES
• Annual conference logo: Click here to download the "Discover Joy: Live Deeply" annual conference logo.
• Missional report: Click here to view (and print) an executive summary of missional report that highlights key progress we're making in the Journey Toward Vitality. Click here to view the full digital report with videos.
• Photos: Click here to view photos from all three days of annual conference session (just select the album with photos from the day you want to see). You can download high-resolution versions of any of the photographs that professional photographer Joni Rasmussen, jlynn studios, took by clicking on the photo you want, then hitting the down arrow in the lower-right corner of the page. (Note: photos are being loaded through June)
• Articles: Click here to read all the articles about key news and events during annual conference.
• Videos: Click here to view videos shown throughout annual conference.
• Breakthrough prayer card: Click here to view and download a sheet with copies of the Breakthrough Prayer that Bishop Ough encourages all United Methodists throughout the Dakotas-Minnesota Area to pray daily. (Click here for a large-print version.) There are several printed Breakthrough Prayer cards available at the conference office. If you would like some mailed to your church contact the Dakotas Conference office by e-mail or phone 605-996-6552.
• Live Stream archive: View all of the worship services and plenary sessions here.