By:
Rev. Eric VanMeter, campus pastor, Dakota Wesleyan University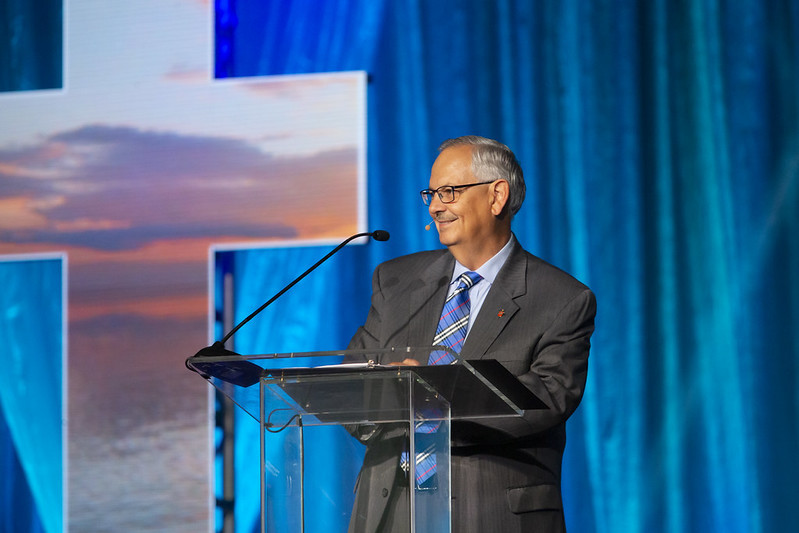 On Thursday morning, Bishop Bruce Ough began the episcopal address to the Dakotas Annual Conference with a provocative question. "Are we too wounded, too broken, too bruised, too trampled upon to be revived?"

For Ough, this is more than rhetoric. In addition to societal problems of racism, violence, and dysfunctional politics, the Annual Conference is dealing with the glaring United Methodist issues of separation, disaffiliation, and broken relationships. Together these present potentially catastrophic threats to our mission, health, and well-being.

Ough, the Executive Secretary of the Council of Bishops who retired from leadership of the Dakotas Conference in 2020, spoke as one of the presiding bishops for this year's gathering. Interim Bishop Laurie Haller, who addressed the conference after Ough, continues to recover from a concussion suffered earlier this year. Retired Bishop Deborah Kiesey currently serves as the interim bishop and led the communion liturgy to close morning worship.

While Jesus is the great healer, Ough said, he requires our cooperation. The Bishop set forth two essential questions: do we want to get well? And Do we need a doctor?

"We cannot be made well, fully healed, if we do not want to be whole or we do not acknowledge we are lost and broken and in need of a doctor."

The temptation in divided times is to prescribe healing for those on the other side of the chasm. Those who are sickest or most wounded sometimes don't or can't recognize the need for healing. Rather, they perpetuate the narrative that that other side is totally at fault.

Even so, Ough suggested, Jesus has us right where we need to be. He reminded the conference that the darkness of the tomb is a necessary part of the path to resurrection. Admitting that all of us are sinners and walk that same path is a key to our healing.

Another step toward healing is recognizing that solutions cannot be found in mere remedies. Rather, healing requires a deeper spiritual restoration, guided by the Great Physician.

"As the church splinters, all sides are scrambling to create remedies for our pain," Ough said. "The Protocol legislation now pending before the 2024 General Conference is a remedy, not a blueprint for healing."

Instead of more legislation, Ough pointed the Annual Conference toward Psalm 23. Although often referenced in times of struggle or sadness, this ancient meditation provides images that move us toward real healing.

"It is a radical call to trusting in the Lord's love, graciousness, provision, goodness and faithfulness. Healing does not arise from only hearing or reading comforting words. Healing comes from trusting fully in God's desire and promise to restore all of creation."

VIEW THE EPISCOPAL ADDRESS.