By:
Rev. Eric Van Meter and the DWU Student Ministry Council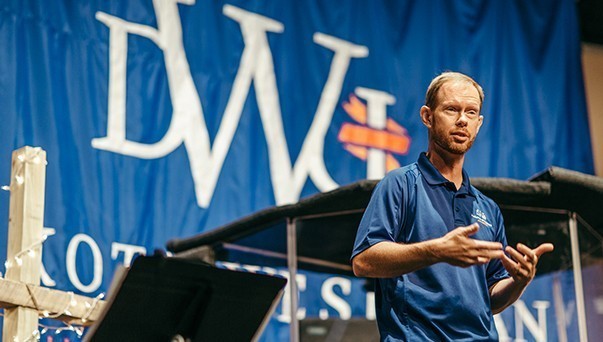 Eric Van Meter wants to talk about leadership. Just not the way you think of it.
"Most of us think of leadership as getting things done, or maybe getting people to do things," Van Meter, the campus pastor at Dakota Wesleyan University, says. "But Jesus makes it pretty clear that, for his followers, things should be different."
The drive to be different has helped DWU Campus Ministry achieve success by most conventional metrics. Chapel attendance hovers around 100—a significant number for a small campus. More than 40 students receive Christian Leadership Awards to help with the cost of education as they develop their faith. This year's Student Ministry Council (SMC) boasts 38 student leaders who plan and implement the different programs.
Students and staff are quick to point out that numbers and programs are not at the heart of this campus ministry. Rather, people are.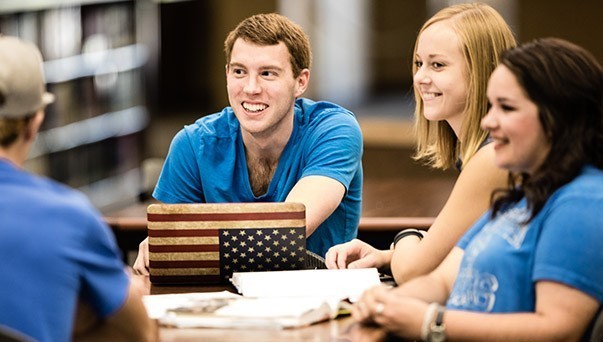 "I'm constantly reminded of the love of Christ through the laughter and new friendships that campus ministry has brought me," says Callie Heath, a sophomore athletic training student from Colome, SD. "It has been such a blessing in my life so far."
Heath is one of eleven SMC leaders in charge of Freshmen Ministry, a weekly program designed to help first-year students adjust to the pace and pressures of college life. Other SMC teams organize worship, service events, the Peru mission trip, caring ministries, storytelling, and small groups.
"It's a lot," says Thanael Certa-Werner, a senior Christian Leadership major and candidate for ordained ministry. "But it's worth the effort to see Christian community come to life here."
The work, the SMC leaders, do take different forms, but circles around a single theme: take care of each other.
"That's the heart of what we do," Van Meter says. "We like good crowds and excellent programming. But we can't lose focus on why we do what we do, which is to help people become mature disciples that care for others in the manner of Jesus."
Becca Letcher, a sophomore education major from Bridgewater, SD, agrees. "We all go through rough patches in life," she says. "But being able to go through it with people whom you know are behind you—that means the world."
The combination of challenge and support has opened the way for many DWU students to consider ordained ministry in the United Methodist Church. Campus ministry has hosted six interns in recent years as part of the Elisha Project. Of those, four are candidates for ordained ministry, while two have gone on to significant lay leadership in other settings.
Denise Van Meter, the associate campus pastor, realizes that the college ministry experience is different from local church involvement. However, she hopes the lessons students learn while part of campus ministry sticks with them in future settings. In particular, she points to cultural and theological divisions that continue to open up in The United Methodist Church and in American culture at large.
"We have many students who are very, very different from one another," she says. "But they eat and sing and pray together, and encourage one another. They care about the people in front of them more than their abstract ideas of the world. That's what community is all about."
A similar philosophy undergirds DWU Campus Ministry's approach to leadership, which continually emphasizes the servant nature of those responsible for organizing the community of faith. Rather than a list of job duties and expectations, leaders on SMC are given a two-part job description—show up and pay attention.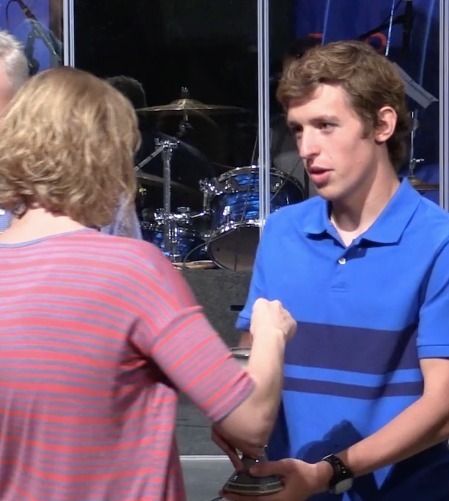 "Those are pretty obvious," says Lily Jones, a senior Christian Leadership major from Omaha. "You have to be where you are supposed to be, ready to hear from God and other people. It sounds simplistic, maybe, but it works. God is always doing something. We just have to be looking for it wherever we are."
Bryce Blank, who along with Jones, and Certa-Werner co-chairs SMC, agrees. Blank, a senior from Rapid City, SD, experienced the power of presence first-hand at last year's Dakotas Annual Conference. As a member of the tech crew, he was able to get a glimpse into the larger UMC and was inspired by what he saw.
"The denomination I grew up in is great," he says. "The Dakotas Conference shows so much positivity and forward-thinking, they're really invested in the future and in generations to come. I could really feel that energy."
His experiences at DWU and at Annual Conference helped Blank discern a call to ordained ministry as a United Methodist pastor.
"The more involved I am in ministry activities, the more I see that God is doing things all around me," he says. "Seminary seems like the next logical step for me, and in a way that's a new thing. However, really, I've already been in ministry for a long time through campus ministry. I think I'll be as ready as I could be for what's next."
DWU Campus Ministry is a recipient of a grant for campus and young adult ministry. Grants for young adults and campus ministry are now part of the Breakthrough Ministry grant process. Applications are reviewed quarterly. The next application deadline is October 31.