ReNew church, a new church start in Kenmare, North Dakota has started an after school program for grades Kindergarten through four, called ReNew Kidz and a robotics club for grades six – eight called Robot Kidz. ReNew Kidz is held every Tuesday and Thursday after school until 5:45 pm.
"Parents are making regular inquiries, so we know it is being talked about – especially by the testimony of our ReNew Kidz " said Pastor Joddy Meidinger, ReNew UMC. "One young man was going to skip basketball tbecause he so enjoys his time at ReNew Kidz… it can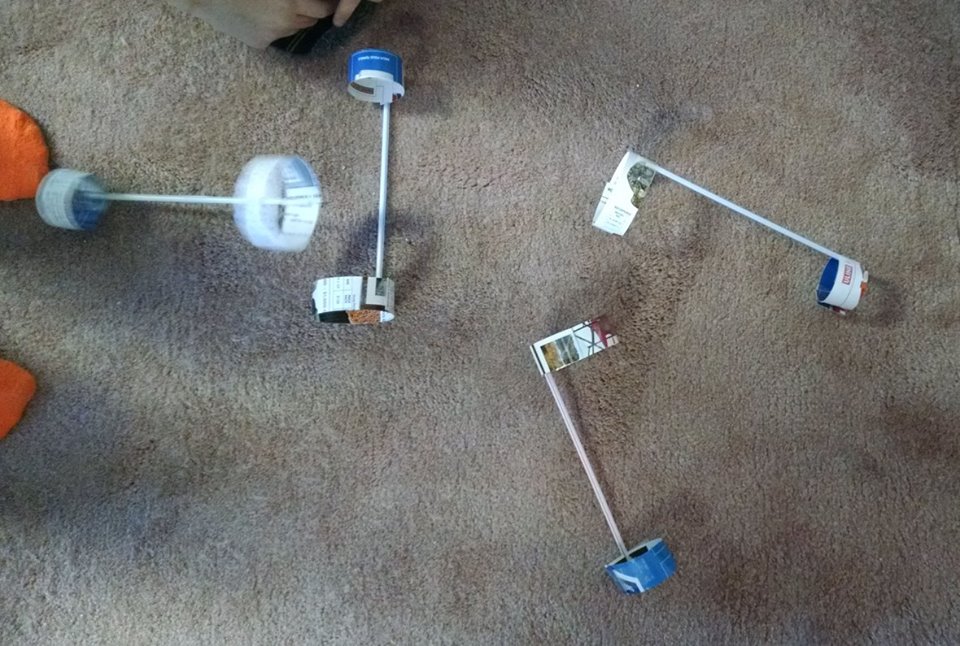 't get any better than that!"
Robot Kidz is also very popular noted Meidinger.  "It's been a blast for them.They build quite high-end robots, then program them to do stuff. Two teams have been formed and they will compete against each other in a challenging skills course. It is all pretty cool stuff."
Photo to the right: Kids make nontraditional paper airplanes in Robot Kidz at ReNew UMC. Photo from ReNew Facebook page.
How it got started
"When I first arrived in Kenmare, I made a beeline to the school because that is the heart of most communities and the target demographic of the people I wanted to reach – young families," said Meidingner. "I wanted to get a feeling for what was important to those families in town and identify ways to serve their needs by serving the needs of their children. Of course, as Bishop Ough has been saying, it's really not that hard to find the least, the lost and the lonely if you open your eyes to it."
Pastor Joddy describes several God things that happened along the way. Years ago, on a whim, or so he thought, Meidinger decided to get a school bus license and a North Dakota substitute teaching certificate. For no reason really, if only to make a little extra walking around money. He never really used either license until moving to Kenmare. "Little did I know at the time it was ultimately God's plan for me to have them for such a time as this," said Meidinger.
The two licenses gave the pastoral leader access to the school in a way most church planters would never have. At first, the school administration was a bit hesitant to talk with him, understandably, with political separation of church and state issues. There was a shortage of bus drivers and substitute teachers, so Meidinger was hired. This allowed him to see the needs of the youth first hand.
"I really enjoyed my time at the school and bonded with kids and teachers, making relationships that have served me well over the last year and a half. Missional work has its rewards," said Meidinger.
It didn't take long to realize there was a need for an after school program. Teachers reported that in every class there was someone struggling to get their work done. Sometimes, it was a matter of getting distracted in a busy classroom. Sometimes, it is a simple matter of a teacher's limited time to spend much needed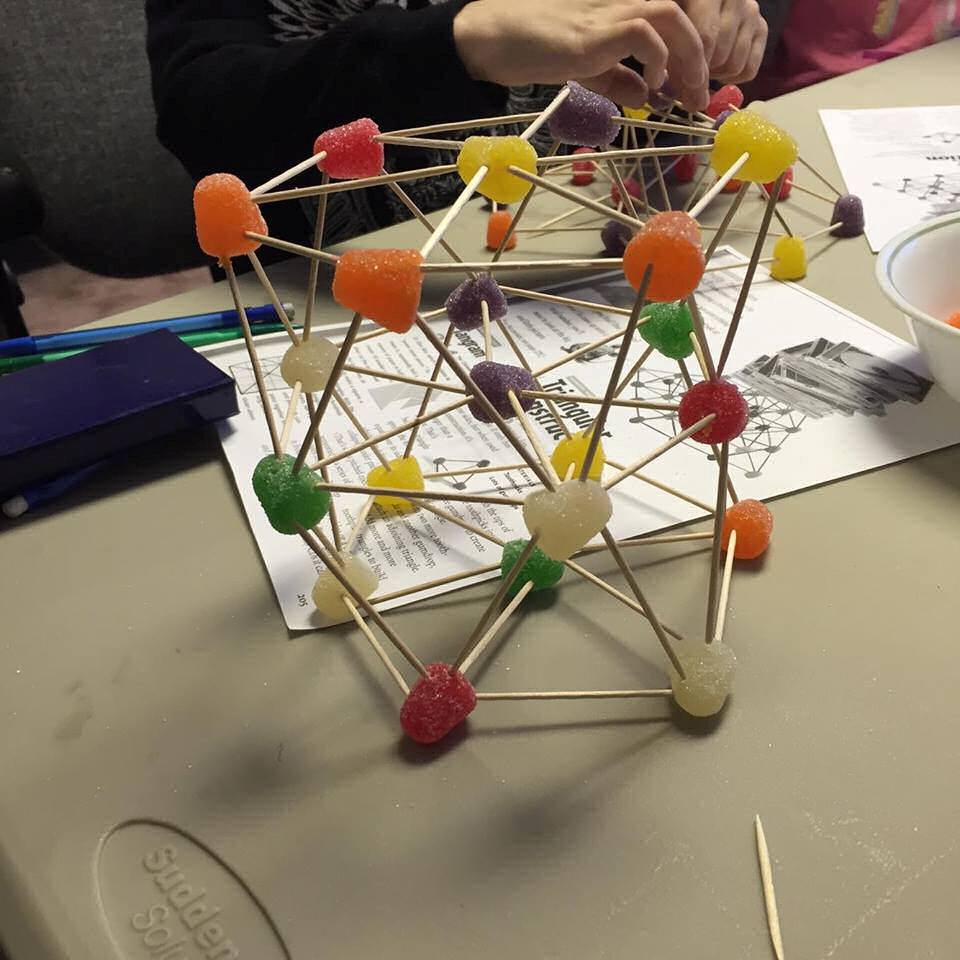 one-on-one with students.
Photo: Using only gumdrops and toothpicks each student made a structure. Photo from ReNew UMC Facebook page.
In the meantime, ReNew was looking for a church home, a headquarters to do ministry from. "In the back of my mind, I hoped for something with enough space, configured in just the right way, for us to not only have weekly worship, but also other community events and activities, as well as specialized ministry such as an afterschool program," said Meidinger.
The building God lead the congregation to is a two-stories, with 2,500 square feet on each level. "It is  fixer-upper we could afford and put some sweat equity into," said Pastor Joddy. "I visualized an open floor plan on the main level, while the upstairs, could be perfect for classrooms and study groups. When all of this came together in a perfect spiritual storm, ReNew Kidz was born."
Recruiting participants
The students were recruited for ReNew Kidz through the school. The elementary school principal identified 25-30 students who needed extra help with homework. The church invited those children to ReNew Kidz.  "We intentionally wanted to begin slowly until we could get our feet under us, " said Meidinger. "So this was a good number to begin with."
It would have been ideal to start the program at the beginning of the school year but the need for extensive remodeling delayed the start until February.  There are six students that consistently attend with 10-12 others coming occasionally. The program is gaining recognition and expected to grow.

ReNew Kidz program
ReNew Kidz meets every Tuesday and Thursday after school until 5:45. The first thing students' do is take the long hike up the steps to the second floor of the church for a nutritious snack.  Meidinger reports that this is one of the few nutritious snacks some of them get. The church partners with the local food pantry for some supplies.
Then, the students do homework. One might think of homework as cumbersome, boring, fight-filled struggle of the time spent there. But it isn't. The kids dig in. Why? Because nothing fun happens until homework is finished. The adult volunteers and kids actually have fun with homework, too. For instance, for spelling lists, the students use chalkboard painted walls to have spelling contests.
After homework, one-on-one reading time with ReNew volunteers takes place. There has been some been experimenting with a reading pet and hope to make it a regular exercise. Reading to a pet calms the students. The student can take their time reading to the pet and don't feel self-conscious, as there is no fear of being constantly corrected by fellow students.
Next there is group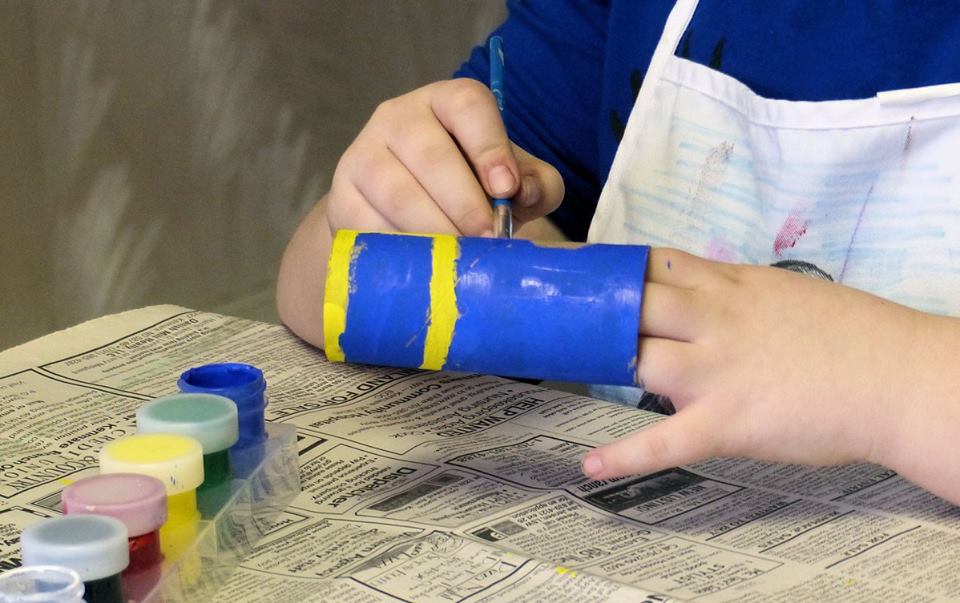 activity time. The program director, Marilyn Bott, a retired, substitute teacher, makes sure all activities involve some learning component with reading, math or comprehension. Recently, the kids made a geodesic dome. It was quite a success. They are also working on a one-act play to be performed for their parents sometime this spring.
Photo: Making Minions during group activity time at ReNEw Kidz afterschool program. Photo from ReNew UMC Facebook page.
The last activity of the day is a group read. Everyone cuddles up in their own blanket and Bott, or some other volunteer, read aloud to the kids, often adding some voices or other drama to keep their attention.
Impact on the community and church
Why would a church consider doing an afterschool program? "If we are going to do church differently, outside the walls of our protective enclaves, then we have to be courageous enough to walk the talk," said Meidinger. "There are a lot more missional opportunities in our community, but an after school program seemed like a great beginning. As our church's name suggests – ReNew – we are here to create opportunities to renew our relationships with each other as loving, servant-hearted neighbors; engage and renew the socio-economic culture of our community; and ultimately renew our relationship with God while drawing others in at the same time. Loving God, loving neighbor."
ReNew UMC spent time identifying the needs of the community, and finding the right match for the gifts, talents, experiences, and passions they. There are four or five retired teachers in the congregation and one formal principal to draw experience and passion from. The church is taking an active interest in serving the community. Others in the community are looking for the opportunity to volunteer and assist.
A church that is doing and not just sitting is a lot more attractive to those looking for an opportunity to do something good in their community.  Meidinger noted, "What is the purpose of the church if not to serve the least, the lost, and the lonely? Just sitting seems pretty boring to me."