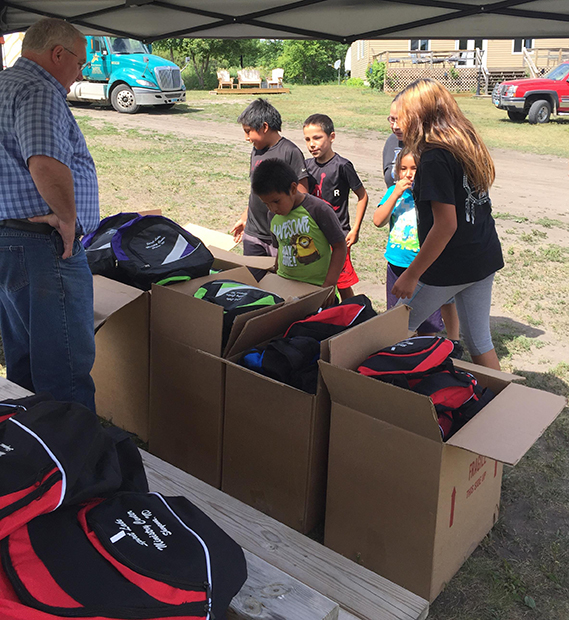 Arthur United Methodist Church in North Dakota brought 420 backpacks loaded with school supplies to Spirit Lake Ministry for the children of the Spirit Lake Nation.
Photo: Picking out a backpack for school at Sprit Lake. Members of Arthur UMC spent time delivering the backpacks before school started. Photo by Pastor Mike Flowers, Spirit Lake Ministry Center.
"The good folks from Arthur ND helped hand out over 170 backpacks the first day. All but 24 were given out in the next three days. The remaining 24 were given to the Warwick Elementary School for their children," said Pastor Mike Flowers, co-director of Spirit Lake Ministry Center.
Libby Flowers serves as the co-director of Spirit Lake Ministry Center explained the happiness and blessing that the backpacks are to the people of Spirit Lake Nation. "These backpacks brought many smiles the faces of the children and their parents." Pastor Mike Flowers added, "Many of these families can not afford even the basic school supplies. These backpacks and supplies relieve the families of this pressure."
Quaya Ackerman serves as the pastor at Arthur UMC explained how the outreach project got started. "The Spirit Lake Ministry backpack project was generated to fulfill a desire to serve as an outreach mission and has been operating for the past three years. The number of backpacks has almost doubled each year the project has been operating, going from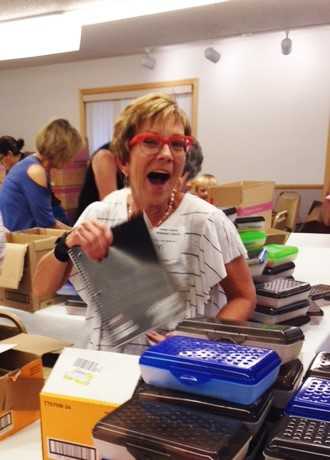 100 the first year to 420 in 2017."
Photo: A member of Arthur UMC stops to smile during an evening of packing school backpacks for Spirit Lake. Photo courtesy of Arthur UMC.
Each backpacks includes: notebooks, a school box, crayons, scissors, glue, ruler, colored pencils and markers. The Arthur UMC Missions Committee and multiple anonymous donors fund the supplies and backpacks.
"We held two separate evenings for backpack packing," said Ackerman. "We had over 30 volunteers and packed in an assembly line formation. It was fun to all be working towards the same goal, knowing that the outcome would serve so many in need and create so many wonderful smiles!"
The Spirit Lake Ministry is located on the Spirit Lake Nation. If you would like to help financially with this worthwhile mission, visit spiritlakeministrycenter.org.