NCJ

Clergy and lay delegates from conferences across the North Central Jurisdiction of The United Methodist Church convened November 2-5 in Fort Wayne, Indiana, for Jurisdictional Conference 2022.

Dakotas Conference delegates attending are Rev. Rebecca Trefz, Rev. Sara Nelson, as well reserve delegates Rev. Ray Baker and Rev. Jenny Hallenbeck Orr. Lay delegates are Kara Heagel and Beata Ferris, Access the schedule here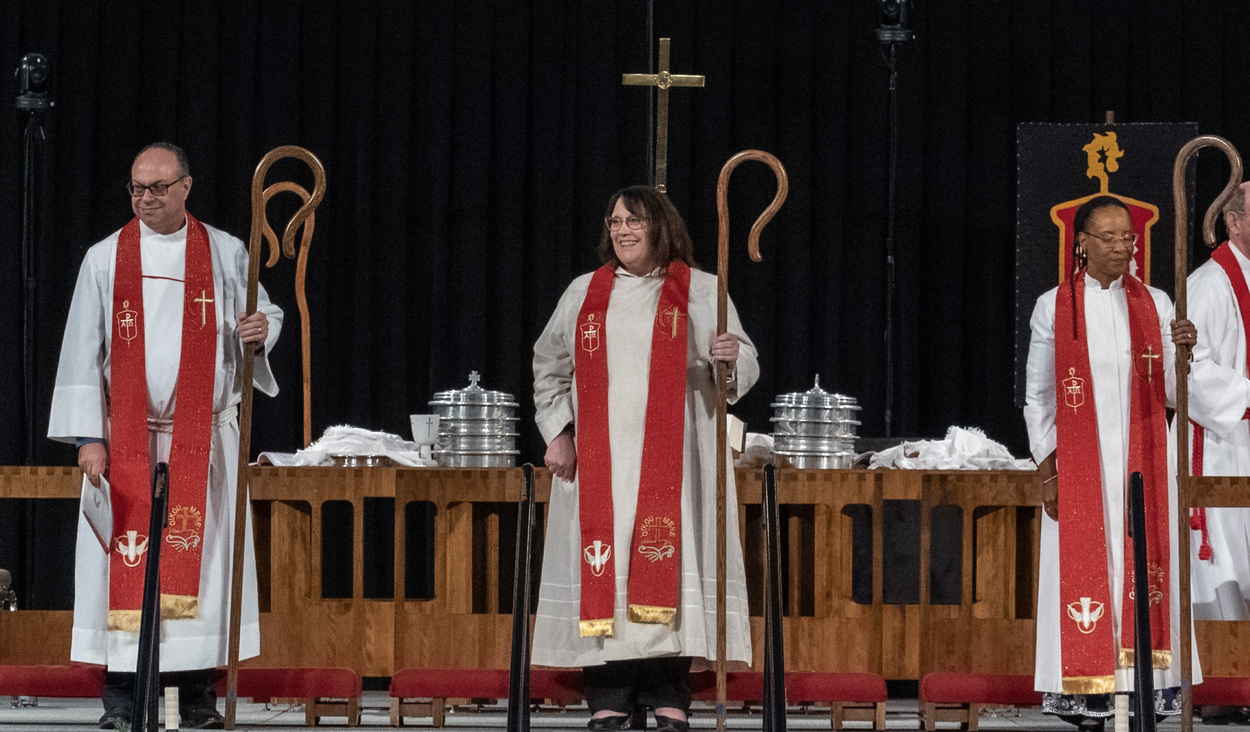 In his opening service message "God Has Us Right Where God Wants Us," retired Bishop Bruce Ough spoke from Ezekiel 37:1-14, The Valley of Dry Bones.
Ezekiel ponders, can something be too far gone? Is it too late? In the context of constant warfare, hunger, and death in Ezekiel's landscape, he ponders if the people can be restored; if they can know healing?" Ough said. He then added, "God has us right where God wants us. The word is that the dry bones in our lives and our United Methodist Church will live again." Read more
During business sessions on the first day, delegates elected two new bishops: the Rev. Kennetha Bigham-Tsai, who became the first bishop in the NCJ to be elected on the first ballot, and the Rev. Dr. Lanette Plambeck, who was elected on the third ballot.

On day two of the Conference, East Ohio Conference Bishop Tracy S. Malone preached from the words of 2 Corinthians 4:7-18, stating God's grace and endless mercy empower us to remain faithful and hopeful even amidst trials.

"It is this power that keeps us sustained in the midst of separation and disaffiliation. It is this power that helps us to remain steadfast in the midst of the many political and cultural wars. It is the Christ in us, living and working through us, that is the hope of glory. And guess what? We can claim it even while we're suffering," Malone shared.

In his Episcopal Address, NCJ College of Bishops President Bishop David Bard stated that The United Methodist Church is in an odd space that is rooted, magnanimous, evangelical, and disciple-making. Read more

"The space we create moving into the future … must be rooted in the history of our Christian faith, rooted, and grounded in Scripture, tradition, reason, and experience, with Scripture as the constitutive witness to Jesus as the Christ. When it is so rooted, it will allow for creativity and curiosity," Bard said. Read more

During business on the second day delegates elected the Rev. Dan Schwerin as the final bishop of the Class of 2022. The day concluded with the Service of Recognition of Retirement honoring Bishop Sally Dyck, Bishop Bruce Ough, and Bishop Laurie Haller. Read more

On day three of NCJ 2022 in Fort Wayne, Indiana, host Bishop Julius Trimble exhorted the body of delegates to stand up with the good news because Jesus is real.

"We can press on – or be a footnote in the annals of history, so I stopped by to tell you that Jesus is real! You may consider yourself left-leaning or right-leaning but we all better be leaning on the everlasting arms!" he said. Read more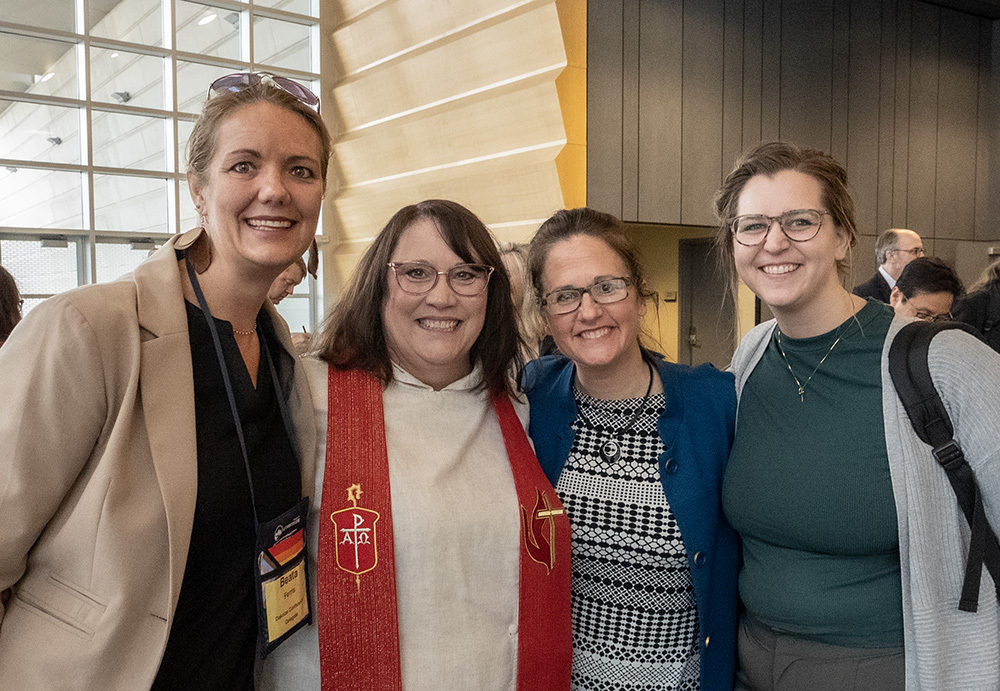 Having completed the election of bishops, delegates focused on how we are called to live as the Church and stand up with the good news in terms of gun violence and homophobia. Rev. Angelo Mante shared of losing a cousin to gun violence in 2016 which prompted him to start a ministry directed toward peacemaking. Rev. Angie Cox talked about being deferred by the Board of Ordained Ministry multiple times because of her sexual orientation. Kiri Anne Ryan Bereznai spoke of being an autistic, non-binary, trans woman with a long pedigree of experience in The United Methodist Church and yet not being fully accepted. Rev. Mary Ann Moman recounted her experience with heterosexism in presiding at a wedding of two men and the objectification they experienced in the press after the story of the wedding went public.

Delegates then passed the resolution "Queer Delegates' Call to Center Justice and Empowerment for LGBTQIA+ People in The UMC." They also approved the 2023-24 Jurisdictional budget and passed several resolutions.

Dates and locations were announced for the next gatherings of the general church. General Conference 2024 will be held in Charlotte, North Carolina, April 23-May 4, 2024. Jurisdictional Conferences will be held in the five regions around the US July 10-13, 2024. The North Central Jurisdictional Conference will take place in Sioux Falls, SD. Watch Welcome to the Dakotas video

During her Consecration Service sermon on the final day of Jurisdictional Conference, Bishop Sally Dyck spoke directly and personally to the three newly elected bishops saying, "You must always claim that first and foremost you are a child of God." She then added, "Being a bishop isn't about having power at all. It's about empowering others to be who they are and to look at what Jesus did over and over again." Finally, she told the three, "You were not elected to save the church … you are called to help inspire and equip and bring new life into our beloved United Methodist Church." View Consecration Service