THIS WEEK
Fresh Expressions Imagine Day | September 30
    Today is the last day to egister for Imagine Day with Rev. Dr. Michael Beck. Don't miss the opportunity to learn from a leader who has brought hundreds of people to faith through the Fresh Expressions movement. He will help you see that reaching new people is indeed within your congregation's reach and provide achievable steps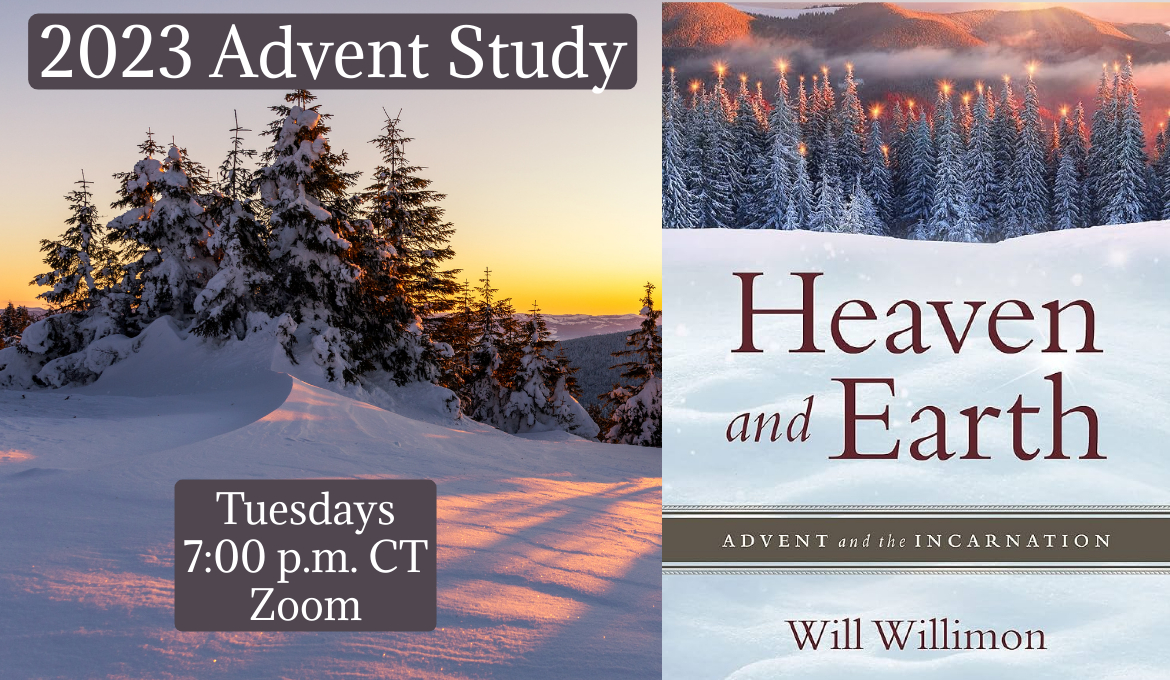 to do just that. Sign up:  Register for Imagine Day on Sept. 30, by 11:59 p.m. tonight!
Advent Study | Heaven and Earth
    Bishop Lanette Plambeck and the Dakotas Conference Cabinet are leading an Advent Study, Heaven and Earth: Advent and the Incarnation, by Will Willimon. Join on Tuesdays, starting November 28, at 7:00-8:15 p.m. on Zoom. Get the details here.
COMING UP
National Care Ministry webinar | Oct. 13-14
    The Caring Congregation is offering a two-day live streamed care ministry webinar training with over 10 hours of training from their introductory course, Q&A sessions, worship, and a commissioning service. Following the training, attendees will have access to the recordings for 30 days and receive a certificate of completion for 10 contact hours in congregational care. Access information.
Lay Ministry Academy | Oct. 13-15
    The upcoming Lay Academy will help strengthen your understanding and skills for planning and leading the spoken parts of worship, including preaching.  Contact Michele Slott, if you missed the September 13 registration for the training beginning at 1 p.m., Friday, October 13, and finishing early afternoon on Sunday, October 15, at Huron Riverview UMC.
Communications that Transform | Oct. 16-20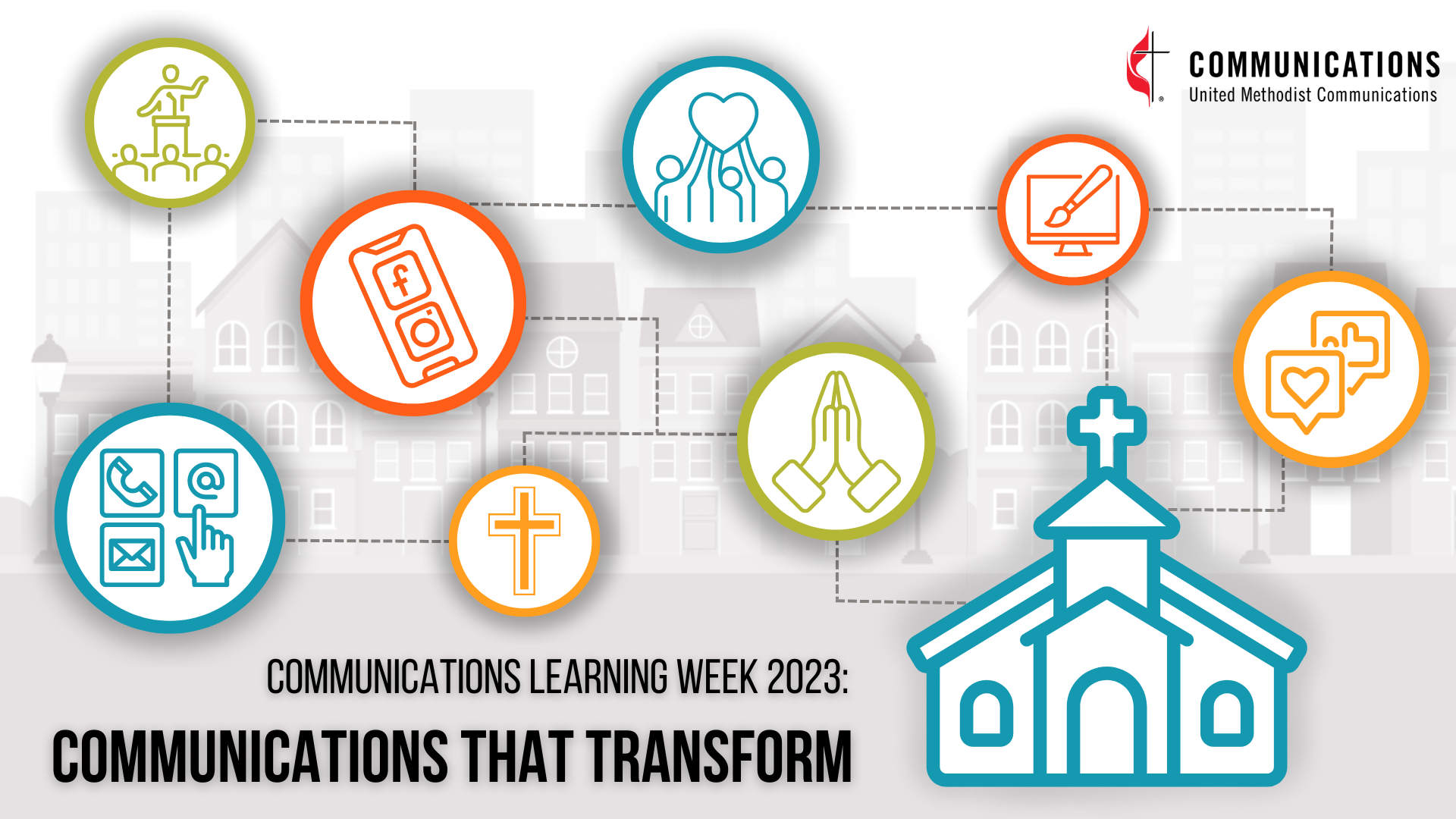 United Methodist Communication (UMCom) has announced the return of its week-long ecumenical training opportunity launching this fall for anyone in ministry seeking to enhance their communications skills.  Communications Learning Week: Communications that Transform will be held October 16-20, 2023. Registration is open September 12 – October 12, 2023, with an early bird 20% discount available for people signing up by Sept. 30th.
Relax, Refresh, Renew | Women's Retreat Oct. 20-22
    Come to Storm Mountain Center for a weekend apart and a time to relax, refresh and renew your mind and body. During the weekend you'll find both group time to build Christian community and time apart in the beauty of creation for sabbath and renewal. Register and get the details.
Worship planning retreat | Oct. 22-25
    Clergy are invited to join Pastors Annie Carlson and Jordan Minnich Kjesbo, Sunday evening, October 22, to Wednesday noon, October 25, at Wesley Acres Camp and Retreat Center for a retreat of renewal, collaboration, and worship planning. Get the details and register.
Care Ministry training | Oct. 28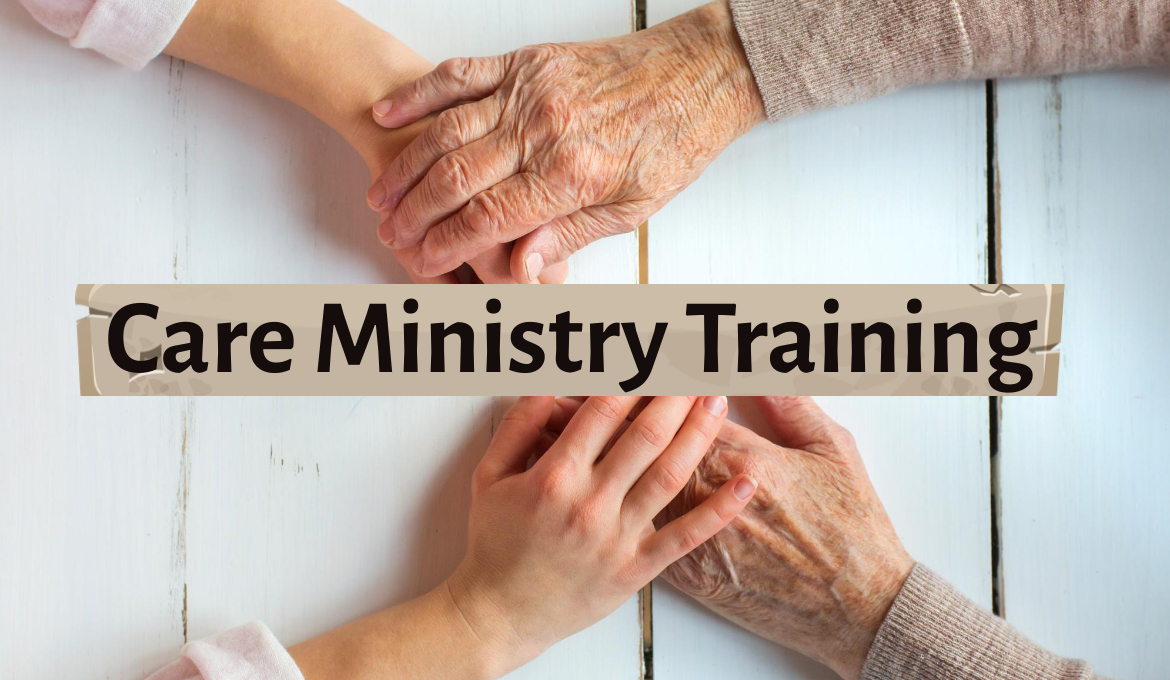 Are you feeling called to care ministry and wondering where you should start? Join the Care Ministry Training on October 28, 9 a.m. to 4 p.m., at Riverview UMC in Huron, S.D., and Legacy UMC in Bismarck, N.D. Get the details and register.
Shoebox Christmas 2023 | November 10 dropoff deadline
    Start collecting your Shoebox Christmas gifts. Spirit Lake Ministry Center coordinates Shoebox Christmas gifts to over 6,000 children across North Dakota, South Dakota, and Minnesota reservations. Learn more about Shoebox Christmas gifts and the dropoff locations. 
DakYouth 2023 | Nov. 10-12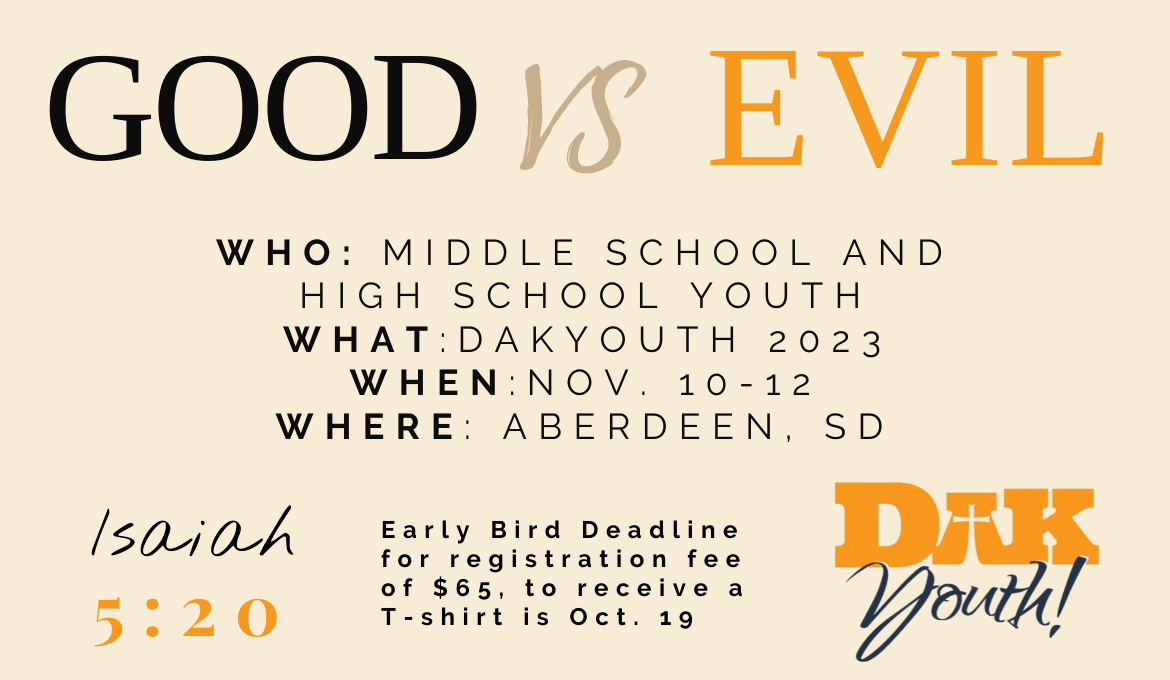 DAKYOUTH is an annual youth event like no other and is for both middle school and high school youth in the Dakotas Conference. Youth will gather at Aberdeen Recreation and Cultural Center from all around the conference to learn about leadership, discipleship, and service. This year the DAKYOUTH theme  is**"Good vs. Evil."** The scripture focus is Isaiah 5:20. Early Bird Deadline for registration fee of $65, to receive a T-shirt is OCTOBER 19. Get the details and register. 
Holy Land tour with Dr. Joel and Kitty Allen
    Join Dr. Joel & Kitty Allen and Dakota Wesleyan University for a Holy Land study tour starting from Sioux Falls on June 16, 2024. You will see the Herodian city of Caesarea Maritima, Nazareth, the Basilica of the Annunciation, Sepphoris, Tel Dan, Caesarea Phillipi, Magdala, boat ride on the Sea of Galilee, the Mount of Beatitudes, Bethsaida, Capernaum, Taghba, the Primacy of Peter, Meggido, Samaria, Herodian city, the Greek Orthodox church, Jacob's Well, Bethlehem Bible College, the Church of the Nativity, the Olive Wood Factory, St. George's monastery in Wadi Qelt, Jericho, Qumran, the Dead Sea, Church of the Holy Sepulchre, and much more! Get the details.
RESOURCES
To give away | Pulpit, a baptismal fount and big chairs
    Valley City Epworth has a pulpit, a baptismal fount and big chairs from the Salem Church. They would like to give these items to another church. Contact: Mary Lee Nielson by email—vcmarylee@gmail.com, or phone 701-840-1580.
Holding Sacred Space | Church & Society webinar series
    Announcing the "Holding Sacred Space: Mental Health and Faith webinar series throughout the month of October hosted by Church and Society of The United Methodist Church. Creating space in which to break the stigma of mental illness, this webinar series with special guests emphasizes the intersectionalities of mental health, faith, and social action. Get the details and register for the webinar series that begins October 11.
GRANTS    
Breakthrough Ministry Grants | Due October 31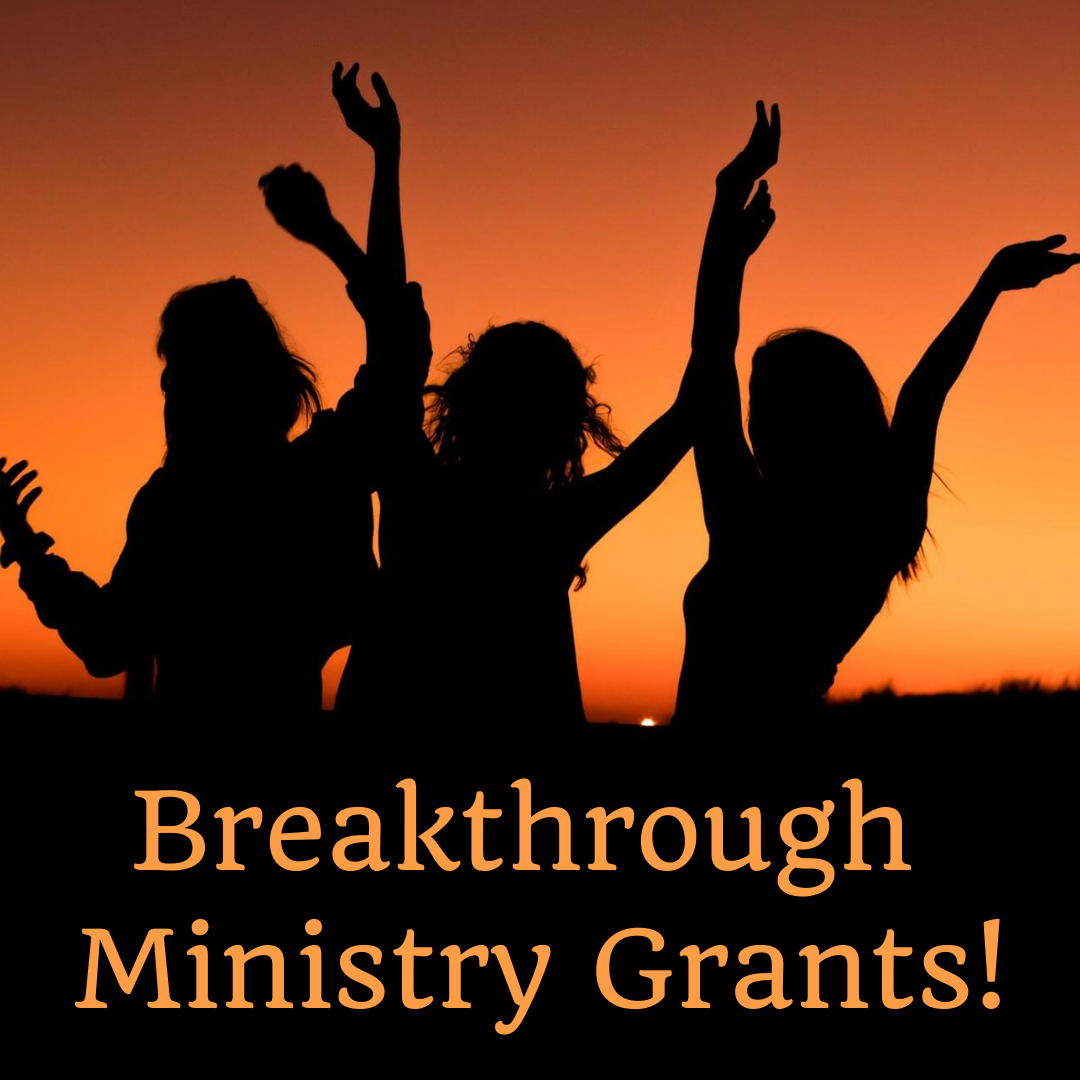 Breakthrough Ministry Grants: Grants are offered to churches and related organizations from the Dakotas Methodist Foundation and Dakotas Conference of The United Methodist Church. Grants will be awarded quarterly as seed money to launch new ministries or expand an existing ministry. Learn more about Breakthrough Ministry Grants here.
Financial Ministry Grant |  Growing generous givers
    If you want to learn more about growing generous givers, starting a study such as Saving Grace, or providing a growth opportunity for key leaders, consider applying for a Financial Ministry Grant of up to $500 to fund your effort. Whatever your method for improving your church's financial health and embedding the value of generosity into your church culture, some financial support can jumpstart your efforts!  Apply for the Financial Ministry Grant using a simple application found here.
    
Discipleship Ministries | Ethnic Ministries Grant
    Discipleship Ministries is offering grants of up to $10,000 to support racial ethnic local churches. Deadline for applying is September 30, 2023. 
Jobs Available
    We're hiring! Take a look at the job announcements across the Dakotas Conference. Get the details on jobs available at these Conference churches and organizations.
Spirit Lake seeks director
    Spirit Lake Ministry Center is seeking a director. The Spirit Lake Ministry Center is dedicated to supporting the peoples of the Spirit Lake Nation and is an approved United Methodist Volunteer in Mission destination. View a full job description and details on how to apply.
Discipleship Ministries Coordinator | Evergreen UMC
    Evergreen UMC in Wahpeton, N.D., is hiring a Discipleship Ministries Coordinator. Evergreen UMC is looking for a high energy, enthusiastic individual who loves engaging with children, youth and young adults and also is super crazy about Jesus!! Please contact Pastor Kori Lehrkamp or the church office for more information.
Worship Arts Director  | Legacy UMC
     Legacy is looking for a full-time Worship Arts Director with a visible and contagious love for Jesus lived out in passionate worship. This person should be a good communicator with a creative spirit, possessing the musical ability to lead vocally and instrumentally and the leadership to develop the gifts and talents of a diverse team. See the full job description here.