On Thursday, in a ceremony before episcopal leaders from around the globe, Dakotas-Minnesota Area Bishop Bruce R. Ough was formally instated as president of the Council of Bishops.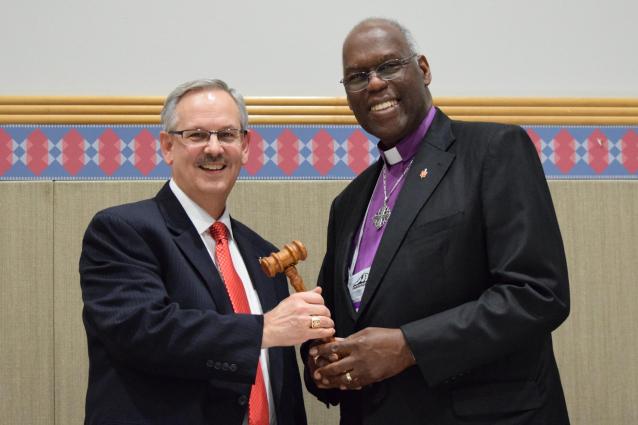 Photo: Bishop Ough received the gavel from San Francisco Area Bishop Warner H. Brown Jr., who transitioned to immediate past president.
The council is made up of all active and retired bishops of The United Methodist Church. Its president is responsible for presiding over the bishops' executive committee and twice-yearly council meetings, and is occasionally asked to speak to journalists and others on behalf of the council, which elected Ough its president-designate in November 2013.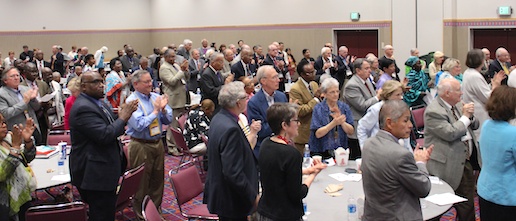 "With confidence in the God who sustains us and the trust of the colleagues who surround us, we pass the baton of leadership, knowing that we will be well led," San Francisco Area Bishop Warner H. Brown Jr. said just before handing the gavel to Bishop Ough and transitioning into the role of immediate past president. Photo: The Council of Bishops gave Bishop Ough a standing ovation after his remarks to fellow bishops.
 
After accepting the gavel, Bishop Ough recounted a story that Bishop Rueben Job once told him. Early on in Ough's ministry and at a time when he was in a spiritual crisis, Job invited him to join a covenant group with three other clergy colleagues. The group's covenant included John Wesley's three simple rules—do no harm, do good, and stay in love with God.
 
Ough said he struggled with keeping the covenant, particularly all the means of grace. Consequently, he didn't look forward to the accountability portion of the covenant group's gatherings. But eventually, he was able to honor and practice a substantial list of disciplines each day the group had been apart, and he looked forward to telling the group the next time they met. After he told the group about his accomplishments, Job—who was clearly not impressed—offered a story.
 
Job, who died in 2015, grew up on a tree claim farm in south central North Dakota. One of his chores was to haul water from a deep well on the farm to water the farm's five acres of trees.
 
"Bruce, the spiritual disciplines are like the pipe in that deep well," Job said. "They are not the water, only the way to reach the Living Water."
 

That day, Ough learned to never lose sight of the main thing: "God in Christ loves us beyond measure, made evident in Christ's saving grace, and we have been called to help make that truth everybody's everyday reality." Photo: Bishop Ough addressing the Council of Bishops.
 
Ough, who will serve a two-year term as president, said his vision is for the Council of Bishops to lead the denomination in the same manner in which Job led him—constantly reminding the church that our journey together and our shared mission is about the Living Water, always being vigilant that the pipe not become a substitute for the living water.
 
"I want this council, and my episcopal area, deeply committed and fully engaged in raising up 3 million difference makers, starting 10,000 new faith communities, partnering with 400 communities to help end poverty, and reaching 1 million children with life-saving health interventions," he said.
 
Ough concluded his remarks by saying that we are more than the prevailing nature of cynicism, anxiety, despair, division, and decline. But even as we lift up that we are "more than," we also must remind the world that we are not "less than."
 
"We cannot be less than a people who confront the sins of racism, sexism, and xenophobia," he said. "We cannot be less than a people who from the beginning of our revival movement stood with the persecuted, advocated for fair economic systems, including the marginalized, and demanded holiness in every aspect of personal and public life. This is our story. I'm sticking to it. And we need to tell it, preach it, model it, and live it."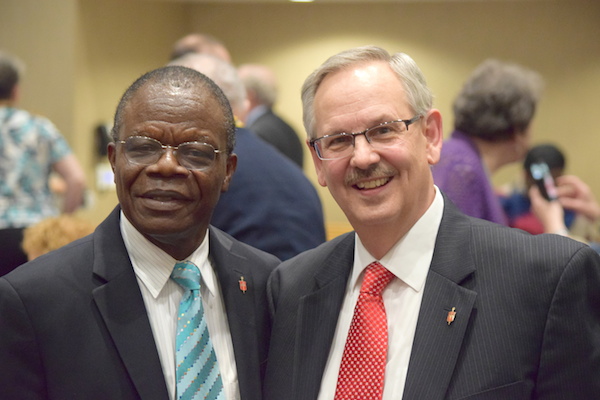 Ough spent 12 years leading the West Ohio Area before coming to the Dakotas-Minnesota Area in 2012. Prior to his consecration as a bishop in 2000, he served in the Iowa Conference, the North Indiana Conference, and the Dakotas Conference.
Photo: Bishop John Innis, Liberia Episcopal Area, and Bishop Ough exchanged warm greetings after the ceremony.