By Doreen Gosmire, director of communications.
"We wanted to create something for us and all the other teens out there who want to have a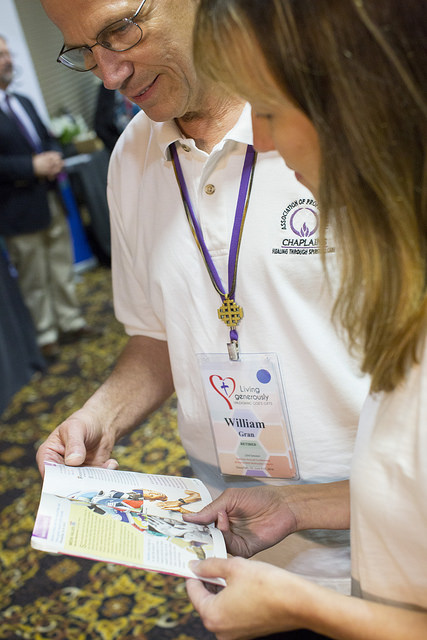 connection to each other and God," said Stephanie (Gran) Baxa. "That is really what the United Methodist Church is all about."
Twenty years and counting, that's how long devozine has been around.  It all started back in the youth room at Hartford UMC when Rev. Bill Gran, retired, started talking with the confirmation class about the possibility of getting teens to pray for and with one another.
Photo: Rev. Bill Gran (left) and Stephanie (Gran) Baxa look over one of the latest editions of devozine. The two were integral to getting the publication starte 20 years ago. Photo by Joni Rasmussen, jlynn studios.
During the spring of 1991, the confirmation class was asked to write and share devotions as part of their confirmation experience.  Once confirmation was over, the teens longed for a way to continue this devotional experience. Photo Illustrations: from devozine website.
"It was so awesome to see a group of youth dedicated to their faith bring forth such an idea to the entire denomination," said Rev. Bill Gran. "I was so proud of them for their persistence and their faith."
One idea led to another and the group of youth, led by Stephanie (Gran) Baxa and her father, the Rev. Gran, wrote a proposal to have the Upper Room create a devotional just for teens.  Energy around the idea swelled and legislation was approved at the 1992 General Conference of The United Methodist Church to publish the devotional.  Click here to see the complete story.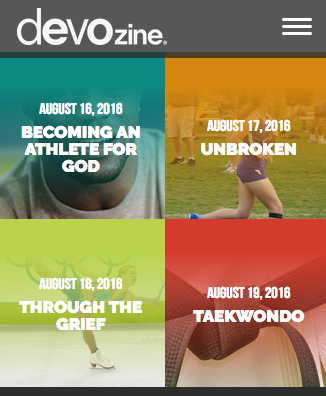 "We had no idea what we were doing. We just thought it would be cool to have teens writing prayers and praying for teens," said Baxa. "One thing led to another and the devotional was created. I am not sure that I even thought it would last and here it is, still around twenty years later."
The Upper Room, a ministry of the General Board of Dicsicipleship, published only printed copies of the devotional lifestyle magazine for several years. the bi-monthly, 64-page, full-color magazine focuses on nine themes, one for each week. Each theme includes weekday meditations and a feature article for the weekend.  Printed copies are still available today but along with an online version and a robust, interactive website.
The vision for www.devozine.org is to provide opportunities for young people to spend time with God, to practice their faith, to connect with other teens around the world, to hear the voices of their generation, and to share their creative gifts and their prayers. The daily meditations and weekend articles are written by teens and by adults who love them.
The Teen Advisory Board (TAB) helps the devozine staff shape future issues of the magazine. Twelve teens age 14-18 meet to: help shape future issues of devozine, evaluate layouts and printed issues of devozine, contribute theme ideas for upcoming issues, help choose devozine covers and contribute to devozine's social networks and website.  
The 20th anniversary of devozine was celebrated at the Dakotas Annual Conference in Sioux Falls, South Dakota.  Rev. Dr. Ken Sloane, director of stewardship and connectional ministries with the General Board of Discipleship was on hand for the celebration.
"It is great to be able to meet the people that made this all happen and to celebrate the 20th anniversary with them," said Rev. Dr. Ken Sloane, "It is a true example that one small group can make a difference for many in the United Methodist Church."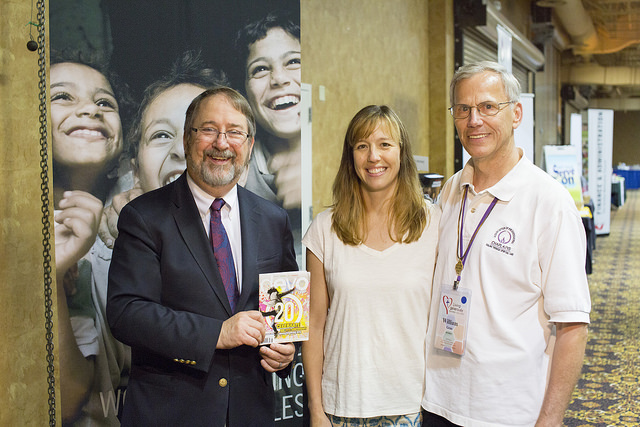 Photo: Left-to-right: Rev. Dr. Ken Sloane with Stephanie (Gran) Baxa and Rev. Bill Gran. The Dakotas Conference took time during their 23rd Session  held in Sioux Falls, S.D. to recognize the work that started 20 years ago by Gran and Baxa. Photo by Joni Rasmussen, jlynn studio.