Story by Hibah Samad, Reporter, KVRR Fox Fargo, North Dakota / Moorhead, Minnesota.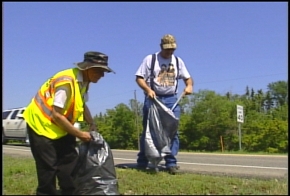 It was a Sunday church service like no other.
"We worship God every week, we might as well try to get out in the community and be the hands, feet, and ears of god," said John Anderson, Associate Pastor.
As members of the Faith United Methodist Church took faith into town.
"Instead of doing church, we went to be the church," said Kevin Kloster Lead Pastor.
Volunteers gave up Sunday worship to be angels in their own back yard.
Some made mission kits for new born babies, while others like John Anderson took the highway to pick up trash for reasons that touch close to home.
"I lost a family member several years ago in a car accident, and we adopted a highway, this reminds me of that," said Anderson.
"It's been fun, it's been good. We've been throwing stuff in the dishwasher, throwing things, scrubbing," said Darlene Mattingly, project leader.
"It was tremendous when I looked out at the windows and saw six to seven cars rolling into the parking lot," said Greg Diehl.
Church members worked on their reception area and waiting room.
"It's really nice to give back and do something that is easy for me, and might have take people longer to do," said volunteer Crystal Rinkenberger.
"We are going to be that church that is willing to give up a Sunday," said Kevin Kloster.
It's the faith of these volunters that help the community one step at a time.