By:
Doreen Gosmire, director of communications, Dakotas UMC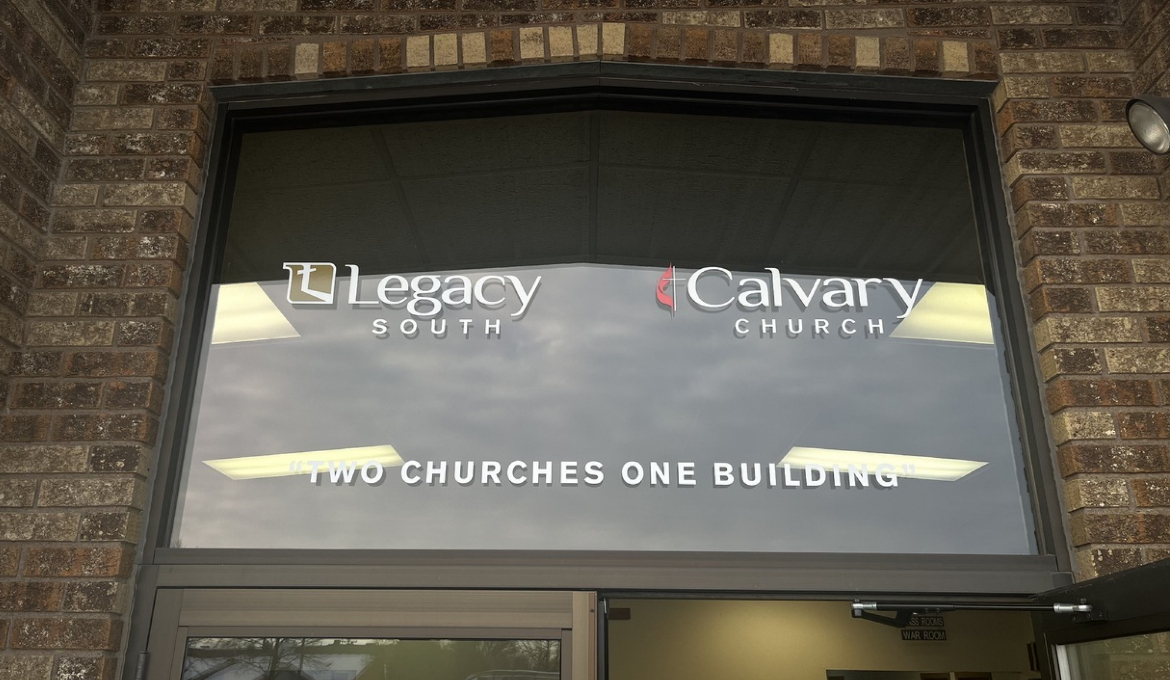 "God's been working in our midst. There's no doubt about it. We are celebrating the first anniversary of bringing the two churches into the same building. It's been good for both churches. They're both growing," said Rev. Andy Early, pastor of Legacy South and Calvary United Methodist churches in Bismarck, North Dakota.

Calvary UMC was looking at closing its doors. They would see about 15 people in worship. Today, there is an average worship attendance of 75.

"Some people are returning. New people are coming. A couple of weeks ago, we had a baptism. It is traditional worship service, and there are older people in the congregation," said Pastor Andy. "They are seeing some health and not worried about closing anymore."

After attending Calvary UMC with his wife, a man in his forties decided to be baptized. "I was doing a sermon with clips from the Jesus Revolution movie. He got into conversations with his family. He talked to his parents and found that he had never been baptized as an infant. His wife had been. They wanted to join the church, and he wanted to be baptized. So, we all gathered outside, and he was baptized," said Pastor Andy.

Legacy South, a church planted by Bismarck Legacy, began in a local dance studio before moving into a shared space with a different church. However, the congregation's needs outgrew the space available for weekday programming. Read more.

"The move for Legacy South to Calvary's building has grown the church. We probably have about 150 people that would call Legacy South home," said Pastor Andy. "Legacy South has reached a sustainable level of funding. We no longer rely on the conference for financial support. We are self-sustaining. We're grown-up church now."

Legacy South is one of the three campuses or individual churches under the umbrella of Legacy. They all have the same mission and share staff. The three congregations are Legacy North, Legacy South, and Legacy Online.

On Sunday, Calvary UMC holds worship at 9 a.m. with traditional music and worship style at 10:30 a.m. Legacy South has worship with contemporary music and worship style.

"We share the building. Our sign specifically says two churches in one building. That has been a real blessing. Some congregations that start a contemporary service feel like they're losing something. Change is hard," Pastor Andy said. "These two churches haven't had to change who they are or their identity. It has been clear that we are separate churches sharing the building. They cross each other between the two services. It has been nice to see them connect and get along. There is a good energy happening."

On Wednesdays, the two congregations connect with a Bible Study. Pastor Andy describes, "We call it, 'Walking in the Word.' We open the scriptures and walk through them together, a verse at a time. We do that for an hour on Wednesdays and share dessert and coffee. We intentionally come together."

In the future, the two congregations will explore how to use the space in the basement for ministry. Currently, the area is rented out to a preschool. The preschool has outgrown the space and is moving to a new location.

"We are looking for where God will lead us," said Pastor Andy.