By:
Rev. Linda Baldock, Tree of Life board member and Doreen Gosmire, director of communications, Dakotas UMC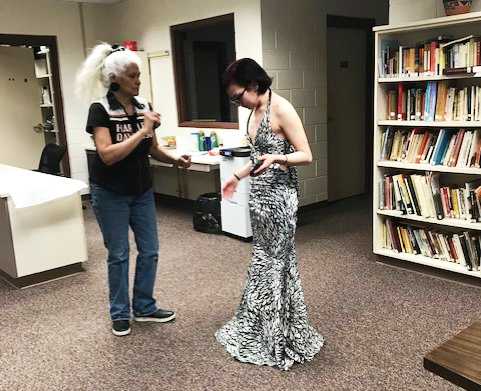 The room was abuzz with young people checking out prom dresses, suits, tuxes, shiny shoes, platform heels, jewelry, cuff links, and even tiaras! The ladies were ready with needles and thread to adjust garments as needed or offer assistance in putting on those fancy zipper ties. It sounds like a typical store that offers prom attire in March or April, right?

The only difference is that the store came to the White River High School library by the Tree of Life from Mission, South Dakota. The formal attire for prom in the store is donated by college students, businessmen, and women by local folks, high school students, and people from as far away as North Carolina. It was a chance for high school students who might not have the opportunity to dress in formal wear for their spring prom to go shopping.
A truckload of prom attire arrived in White River while the snow was falling. The National Honor Society students helped transport racks from the truck into the library, set up the displays and returned the racks to the truck as the snow continued to fall heavily.
Students from Todd County and St. Francis High Schools go to the Tree of Life thrift store in Mission, South Dakota, to pick out their free prom attire. There have been similar setups in previous years to what was done in White River, but it's easier for the local students to stop in at their convenience.
A student came from Vermillion, South Dakota, to find a dress for herself and her friend. Unfortunately, the friend wasn't on site but shopped via Facetime. Rev. Linda Baldock, who assisted with the Prom shopping at White River, said, "Ah, what technology can do for our young people! Yes, they both found dresses."
After shopping, prom participants dazzle and sparkle with others at their event. Tree of Life Ministry receives lots of thank yous for the shopping experience.
"There is no monetary price to attach to offering children an opportunity to dream and create," said the White River High School principal. "These are lasting memories filled with fun and fairy tale moments!"
The guidance counselor added, "The students feel special and loved."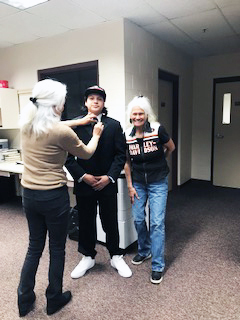 One young man attending prom on April 15, 2023, said, "I appreciate you, ladies, for putting a smile on my face and making me feel more confident in myself." The ladies helping noted that he selected an all-white tux that looked absolutely stunning!
Russell and Donna Masartis, previous directors at Tree of Life Ministry, started the program several years ago. The prom attire shopping experience is free for those who select formal wear.
Words of appreciation are expressed in writing and verbally. For example, one boy wrote in a thank you note, "Thanks for having it free!"
The volunteers shared that a young man brought tears to their eyes with his statement, "I have never seen myself happy before and other people too."
One of the gals said, "…and thank you for altering it for me as well. I am very grateful to you guys because if I didn't get a dress, I wasn't going to go to prom. You guys are amazing and so sweet, and thank you for putting up with me being so picky!"
Another student said, "I was worried I wouldn't be able to afford a prom dress this year, but luckily I found one I love, for free, from the bottom of my heart; thank you."
Tree of Life thanks those who contribute to making the event a possibility each year. Baldock said, "It is only with the generosity of our donors and volunteers that we can put those smiles on teenagers' faces as they prepare for their proms. We would love to have a VIM (Volunteers in Mission) group come to help next year. Just give us a call to set it up!"