By:
By Betsy Ryan, McKenzie County Farmer staff writer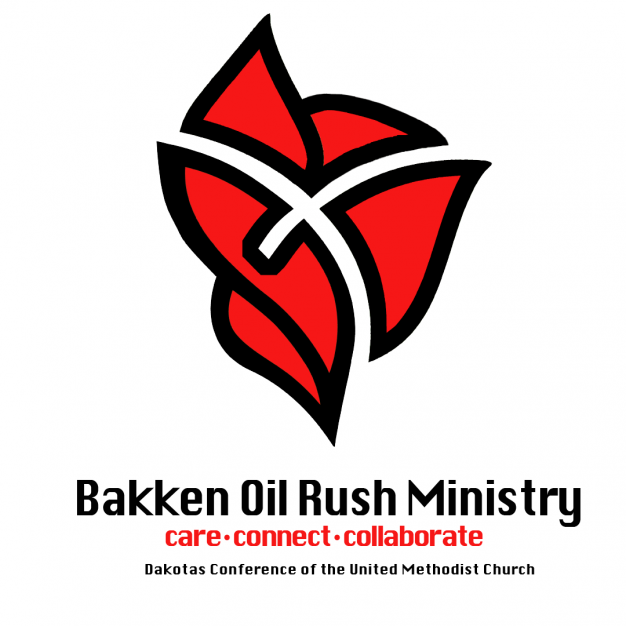 After almost four years of serving McKenzie County, the Bakken Oil Rush Ministry has a permanent home. In the last few months, they have become incorporated into their own non-profit, now called Bakken Oil Rush Watford City Outreach, and obtained the funds to purchase the building and land they have been renting.
Never stopping to rest, Jim and Kathie Konsor spend their days moving and organizing items, talking with people, cooking and coordinating gathering place dinners and thinking up new ways that they might be able to help those in need in McKenzie County.
"We aren't going anywhere," said Jim Konsor. "We made a lot of promises and said a lot of, 'We are gonnas,' and now we are making good on those promises."
Jim Konsor came to McKenzie County to work in 2012. Quickly, however, he saw that his purpose in North Dakota was much different than moving scoria.
He describes the feeling in the air in Watford City at that time. He remembers hearing story after story of hopeless people moving to the Bakken with a tiny glimmer of hope. People came with little money and little support. Jim said that he felt a heaviness surrounding all of these workers trying to make a new life.
Having attended Bible School, where he met his wife, Kathie, the two had spent almost their entire adult lives involved in some kind of ministry.
It didn't take long for Jim and Kathie to partner with [the Dakotas] United Methodist Conference (UMC) to find a way to bring aid to McKenzie County.
The couple met with McKenzie County and Watford City officials, church leaders, social services and schools to ask what this community really needed. The overwhelming response was that the county needed a resource for the masses of people moving to the area.
So Jim and Kathie, along with the UMC, made a plan.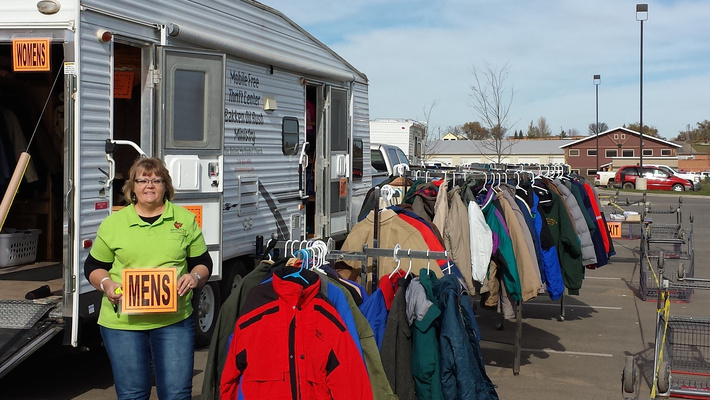 The first thing that they did was find people from the Konsors' home church in South Dakota to convert an RV into a vehicle that they could use to disperse clothing items. Then they brought the trailer to North Dakota and started their work. You can still see that trailer parked next to their new building north of the post office.
Photo: Kathie Konsor shows where the men's coats will be during the coat give away. File photo. 
Kathie remembers their first event.
"We decided to do a coat drive in the parking lot of what is now Cash Wise," Kathie said. "We had no idea how many people would come. We were delighted when we were able to give away 90 coats."
At the same event a year later, they gave away over 400 coats.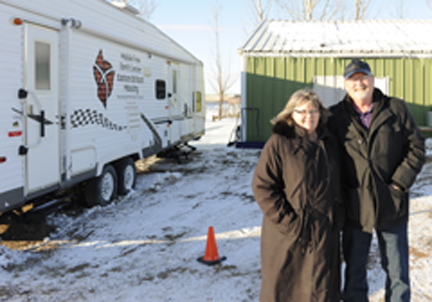 Propelled by the success of the coat drive, Kathie and Jim continued on. They worked out of their trailer for several years before moving into a rented building.
Photo: Jim and Kathie Konsor stand outside of the building and trailer that house the Bakken Oil Rush Ministry. Photo courtesy of the McKenzie County Farmer.
Now, Bakken Oil Rush Ministry is considered a staple of the McKenzie County community. Churches have grown to count on them and locals know where to send someone in need of some aid.
The UMC had made a three year agreement with the Konsors to support their work in McKenzie County. And in 2016, near the end of that agreement, the Konsors knew that their work wasn't done.
Tasked with the job of finding another source of funding, the Konsors called on the community to donate to their work. While they had always needed donations from local sources and had been supported in part by churches and private donors, it was time for them to become more aggressive in their fundraising efforts.
The fundraising effort in 2016 started with a big picnic and car show sponsored by Burgerrito's and the Watford City Area Chamber of Commerce. The Konsors were pleasantly surprised by both the turnout and the large donation the event produced.
From there they just kept going, searching for support.
Every year since they have brought in a family-friendly comedian to perform in a fundraising event as well.
Another reason that 2016 was a big year for the Bakken Oil Rush Ministry was that, for the first time, they moved into an actual building. As they began moving into the building north of the post office, their first job was to sort the massive amounts of clothing and household items they had received. Volunteers turned out and before long, they had their indoor thrift store and storage quonset building running.
"Our goal is to be an asset to the community," said Jim. "We do that by providing clothing and household goods to people who need them, but also to provide community, love and encouragement to those who pass through our doors."
No strangers to hardship, the Konsors' first goal is that people leave their thrift store feeling better than when they came.
"No one wants to be judged or told where they went wrong," said Kathie. "I hug, pray with and give kindness to everyone I can. That is what people really need."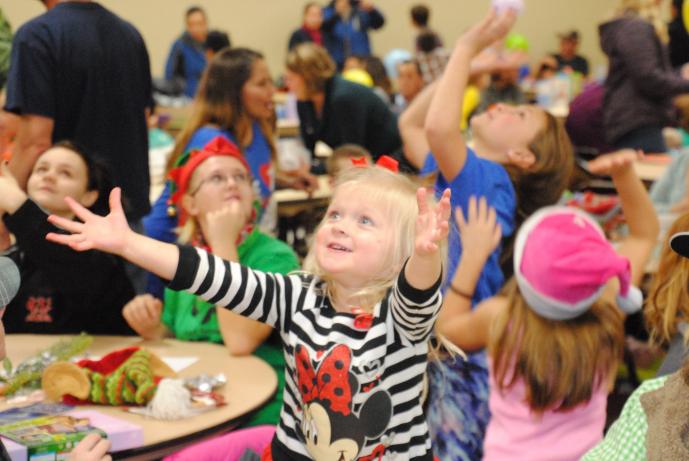 Perhaps, the most exciting event that the Konsors organize is their Christmas event and toy mall. Last Christmas, 107 kids got new unwrapped presents.
Photo: Children and families gather with excitement at the Bakken Oil Rush Ministry Christmas. File photo.
"Most of the families we serve at Christmas are struggling to get established here," said Jim. "We consider our Christmas party one of the most meaningful events."
Now, as Bakken Oil Rush Watford City Outreach has finalized their purchase of the building they have been in the last few years, Jim and Kathie feel proud that they delivered on their promise to help the Bakken.
"I know lots of people come through and say that they are going to do this or that," said Jim. "We did what we said we were going to do."
Jim said that they could not do the work that they do without their local board and several key volunteers.
"We cannot thank them enough for their help and support," said Jim.
Ever in need of donations, both monetary and goods, the Konsors continue their ministry. At this time they are in particular need of kitchen items, work wear including boots, warm sweatshirts and furniture. They are open to volunteers and appreciate any help that the community can pass along to them.
Follow the Oil Rush Ministry Facebook page to stay informed of events and ways that you can volunteer.