By:
Doreen Gosmire and Dave Stucke, Dakotas Conference Communications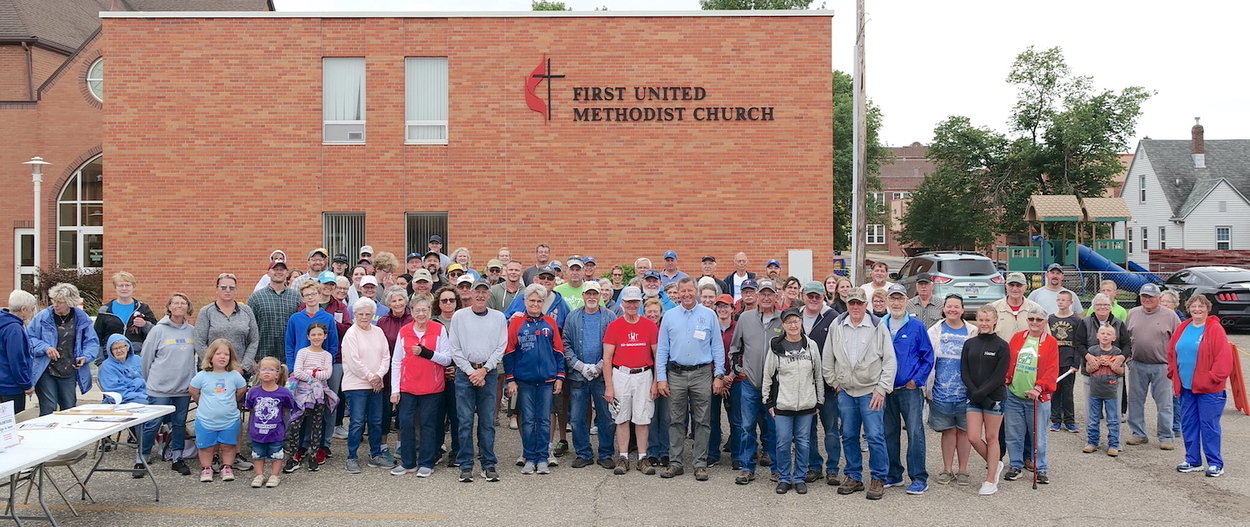 A bed is a basic need for the proper physical, emotional, and mental support that a child needs. That is why Charlie Schnabel, a member at First United Methodist Church in Brookings, South Dakota, got involved in building beds for kids through the Brookings chapter of Sleep in Heavenly Peace (SHP).

Five years ago, he joined a core group, starting a chapter and conducting the first build at Lowe's in Brookings. Each chapter builds and delivers beds to children and families needing a bed.

SHP chapters are forming throughout the United States. It takes a group of volunteers dedicated to building, assembling, and delivering top-notch bunk beds to children and families in need to form a chapter. The organization has grown steadily over time and is working on opening more chapters in different states to serve more people. The goal is to live out SHP's motto—no kid sleeps on the floor in our town!

In 2018, the Brookings SHP chapter formed as chapter number 34 out of currently over 300 chapters.

"I have always been a person that likes to keep busy. I heard about Sleep in Heavenly Peace and building beds when I was driving for the Brookings Area Transit," said Charlie. "I drive for the transit 5-10 a.m. I did not want just to go home. Building beds sounded good. I have to have something to do."

Charlie was hooked and has been involved in building, assembling, and delivering the beds since the first invitations. It is a way for him to use his carpentry skills and faith in action. He invited his pastor Pete Grassow and his wife, Jenny, to join a couple of the building efforts.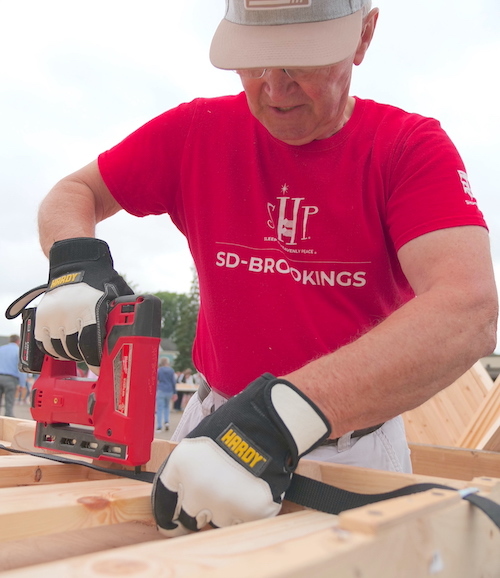 "I invited Pete and Jenny to join us. Pastor Pete thought trying a build with our church would be a good idea. So, we are having a build in the parking lot," Charlie said.

Instead of holding a church service inside the sanctuary, the service was actually the bed build project on this Sunday morning. Rev. Pete Grassow seemed to be smiling the whole time. "I was down here at seven this morning, when we were setting up, and it was just drizzling a bit, and I did have a moment when I was wondering, with the congregation outside, if it was going to be too wet. And I was very gratified that they arrived, and I've enjoyed their joy."

He continued, "As much as we're gonna bless lots of children, for me the blessing is the participation, as well. And I've seen people get to know each other as they've worked alongside, and as they've done things they haven't done before, and that's a bonus."

"Some folks donated financially," Pastor Pete added, saying, "some folks said they don't have the finances; they can come and do the work. And some said they can't do the work, so they brought cookies, so all of that is part of the same story."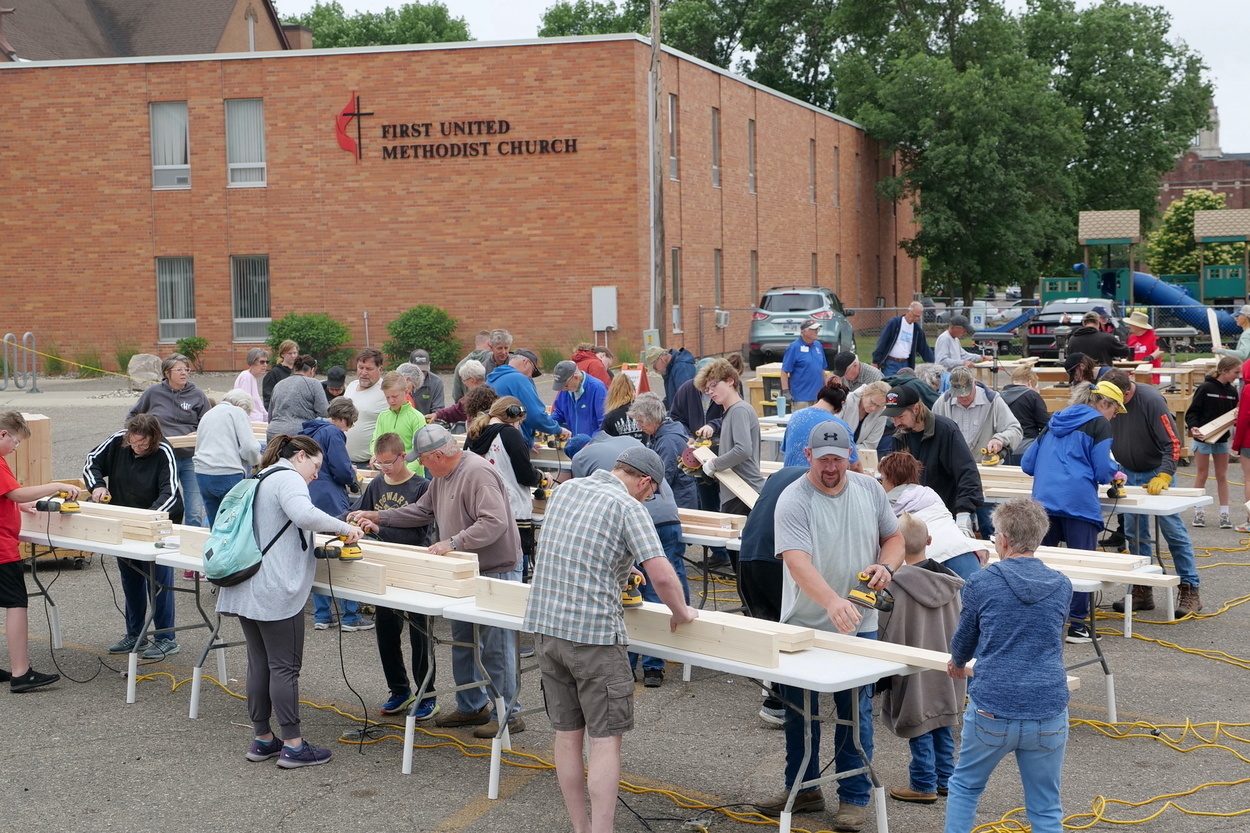 The build was attended by over 100 volunteers, who sanded, drilled, and assembled bed headboards, footboards, bedrails, and lattices to support the mattresses. As the massive assembly line in the Brookings First UMC parking lot got rolling, dozens of people, mostly from the congregation, were busy sanding each pre-cut piece, screwing them together, dip-staining them in a vinegar-based, non-toxic solution, and standing them up to dry in the cloudy, windy morning.
Dave Miller, head of the local SHP chapter shared his thoughts. "I'm a giver by nature, and I like to give and serve, but nothing has ever filled my soul like this project. It's the most rewarding thing I've ever been a part of, by far, on several levels, because you get to meet amazing people who want to get out and serve. A group will come together and you meet just wonderful people. But the real magic happens when you get to go out and deliver, and you see that mother just start balling, because of many reasons." Miller said, sometimes it's that they don't have enough money to buy a bed, because they had to buy a highchair, or groceries with their paycheck.

Love and gifts are distributed with every bed. Each child that gets a bed from the Brookings SHP chapter also receives a book, quilt, sheet set, pillow, tied blanket, and a stuffed animal.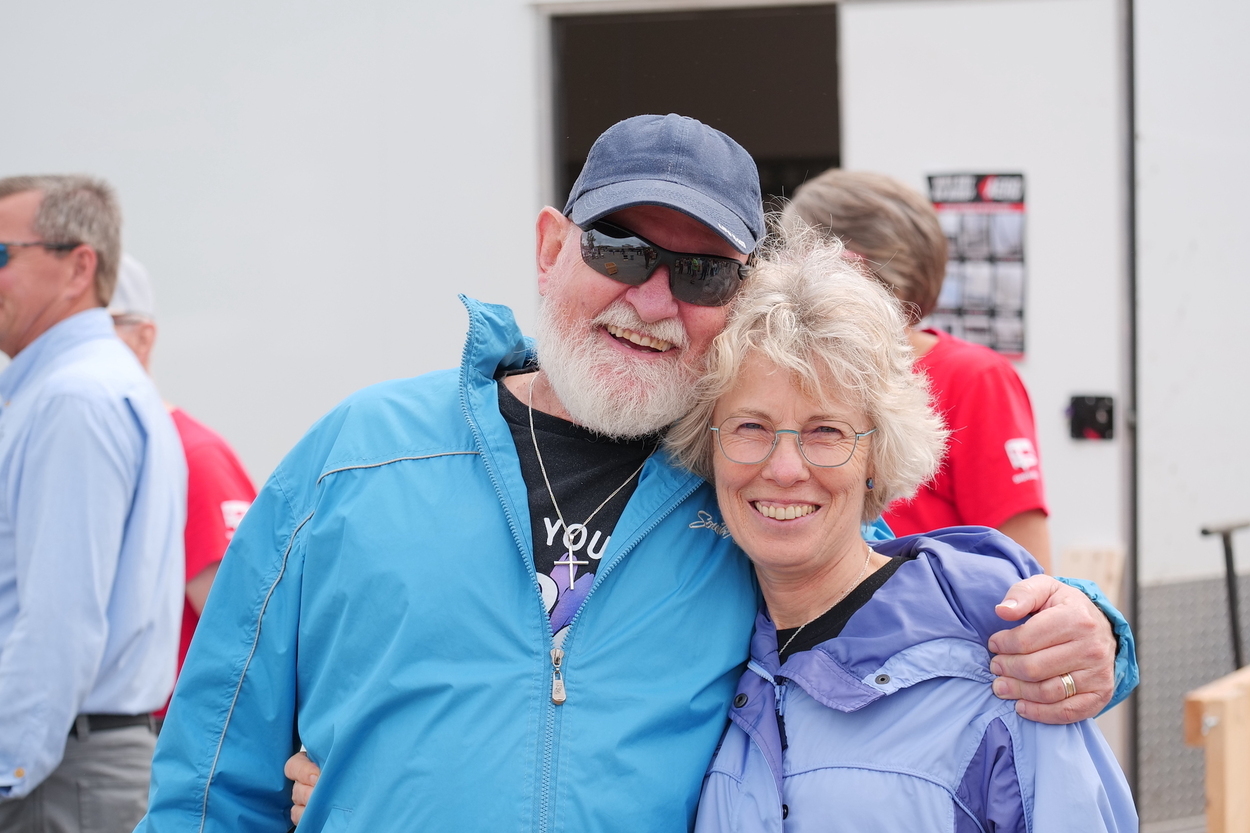 Jenny Grassow was busy during the build, as was her husband, Rev. Pete Grassow. Jenny said, "It's just wonderful. The kids get linen for the bed, and a quilt, a fleece blanket. Depending on the age, they also get a toy or a book. Just to see them; they get so excited. They sometimes also get to help build the beds if they want to, and then they jump on the beds, and they've got their quilts, and they open the book, or hold the toy. You know you've done a really kind thing. They're usually so super-excited when you arrive."

"When we started, we asked for quilts, but then the other things just came," Charlie said.

It is about more than the beds and gifts for Charlie and others. They are changing lives and making disciples. Dave Miller added, "We were anticipating getting the funds to build 40 beds, but now they collected funds for 100 beds. We were just on the Pine Ridge Reservation last week, and dropped off 60 beds, but the need is still great."

"Many people that need beds have been in some bad situations. One of the team members tells the story that when one of the beds was delivered, assembled, and set up, a little girl climbed onto her bed, hugging her stuffed animal, and said, 'He can't get me here.' That is why we do this. We want people to feel safe and loved," said Charlie.