By:
Doreen Gosmire, director of communications, Dakotas UMC
I am confident of this, that the one who began a good work in you will continue to complete it until the day of Jesus Christ.
Philippians 1:6, NRSVUE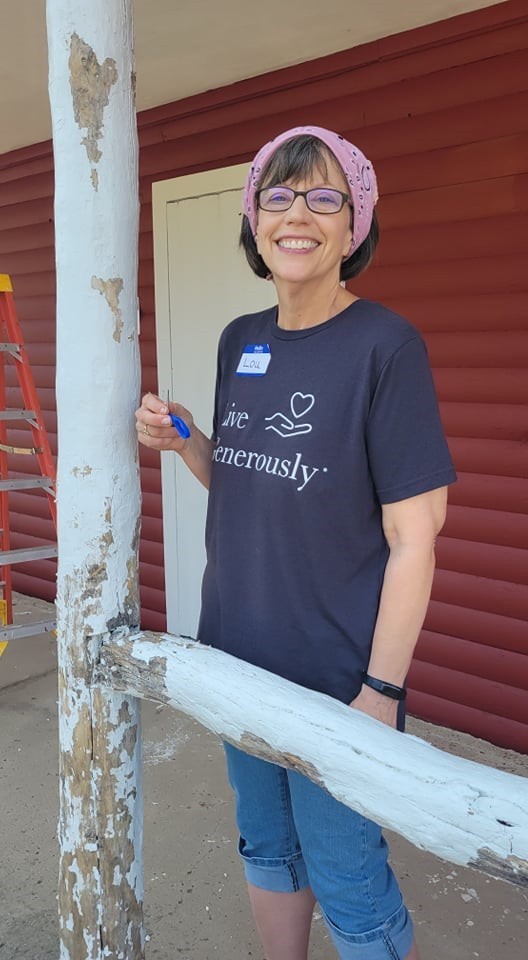 "In life there are bad times, there can be lots of pain, but there was good work that began in me when I was baptized. I had two great uncles who were Methodist pastors. One of them baptized me when I was six months old," said Lou Whitmer who has been in ministry for 47 years, serving as a pastor of churches for 16 years. Whitmer will retire this year.
Lou Whitmer grew up in Hettinger, North Dakota, where she attended the local Methodist Church, and remembers being a part of the worship service celebrating the creation of the United Methodist Church. She was confirmed at Hettinger UMC as were many of her family members before her. In 1907 her great grandparents and grandfather were charter members of the little white Hettinger Methodist Church.
Her grandparents gave Lou's family a piano that had belonged to their great grandmother, and paid for piano lessons. Then Lou became the church pianist.
"I started playing piano out of necessity at church when I was in the sixth grade. My pay was a box of stationary at Christmas," said Whitmer. "I remember enjoying it, but I'm also very glad there are no recordings of the services," she said. A vital memory is that same year she attended camp. "The first time I really understood God's love for me was at Wesley Acres Bible camp."
Her church family was and continues to be a support system. "My mom died when I was 15. I remember the church being there for us."
Family roles changed. Lou became a parent figure, to her siblings, and a support to her father. She recalls reading the book Motherless Daughers by Hope Edelman.
"I became what I read: I got the grocery list and the car keys. I became the cook and cared for my younger brothers. I had a lot of responsibility. My dad and grandparents were in deep grief. I ended up getting a two-year degree rather than a four-year degree. There was a lot of pressure to get done with college, move back home and continue to be the caregiver," said Lou.
She attended the ND College of Science in Wahpeton, earning an associate degree in business. Lou did not return home. She worked and lived in Fargo. Like a lot of young adults, she stepped away from the church.
"Then I went to this Bible study with a friend, and asked the pastor, 'If God loves us, why did my mom die?' He answered, 'Lou, God punishes those whom he loves; what did you do?' It was such a horrible thought that I was somehow responsible for my mother's death," she said. "Those words ringing in my ears began to shape my theology for the better," said Whitmer, "and to this day I am very sensitive of how damaging scripture used flippantly as easy answers truly is for people."
After a few years in Fargo, Lou ventured to Minot. An invitation from a beloved pastor, Rev. Jim Pomeroy, who would become her mentor, brought her back to church. "I met Jim Pomeroy, and he got me back on track. I got involved again at Trinity United Methodist Church in Minot. where I started playing piano and taught confirmation," said Lou. "Jim asked me to consider the ministry way back then."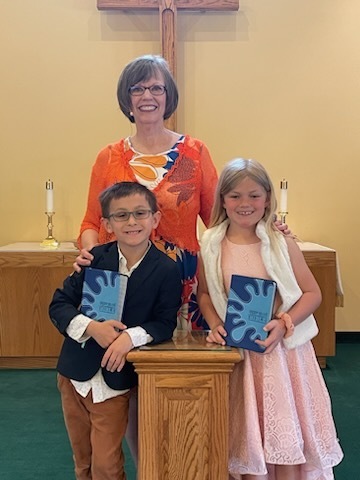 She became the organist and music coordinator at Vincent United Methodist Church in Minot for the next 31 years. Playing organ and helping with music kept Lou involved in church.
"I was really feeling a call periodically to do more. Jim had left and was a district superintendent. He would mention ministry or the gifts he saw in me every time I saw him. I got very involved with life. When the feeling crept up that there should be more, I would kind of push it down. I thought I was doing enough."
Lou continued her work at Vincent UMC. She owned a gift shop for several years. People would come in to visit and she would listen. "It was kind of a social service agency because people came in all the time for everything but for buying gifts," said Lou.
She started working at Minot State University, when God's call became clear. "I still remember standing in front of the printer one day. It was in the summer. There wasn't anybody else around. I said out loud, 'I'm going to seminary.' It was just this overpowering feeling. I called Deborah Ball-Kilbourne, and we had a long conversation."
Lou thought maybe she would finish her bachelor's degree and then head to seminary. Then she heard about another ministry path, licensed local pastor.
"I went immediately into ministry. I attended licensing school in Kansas and then was assigned to be the pastor at Kimball, South Dakota, at Kimball Protestant Parish," said Pastor Lou. "The timing was right. My guiding scripture is, 'I am confident of this, that the one who began a good work in you will continue to complete it until the day of Jesus Christ. [Philippians 1:6]' It was just the right time for me. Kimball was a great appointment for me."
While in Kimball, she worked with the church, which was part of three denominations—Evangelical Lutheran Church of America, Presbyterian Church (U.S.A.), and United Methodist, to streamline their governance and finance structures. They were functioning in one building, but they still were trying to keep it as three denominations.
In 2011, she was appointed to serve as the associate pastor at First United Methodist Church in Mitchell, South Dakota. After Mitchell, Pastor Lou was appointed to serve at North Highland United Methodist Church in Aberdeen, South Dakota, in 2013.
Highlights of her ministry include working with youth and in missions. She enjoys working with youth that are in elementary school through high school. "They bring such energy to me and all those around them," said Pastor Lou. "They are willing to try things. I like taking youth on mission trips and helping them connect service with faith--being the hands and feet of Christ in many different ways."
She also enjoys planning worship. Pastor Lou is the worship coordinator for Dakotas Annual Conference. "I love working on the visuals and seeing the services come together. I like to create meaningful worship experiences." A highlight was being asked to preach at annual conference in 2015.
"In ministry there are challenging moments. Walking with people through some difficult things ends up being those blessings you don't expect. There has been holy ground in many unexpected places," said Pastor Lou.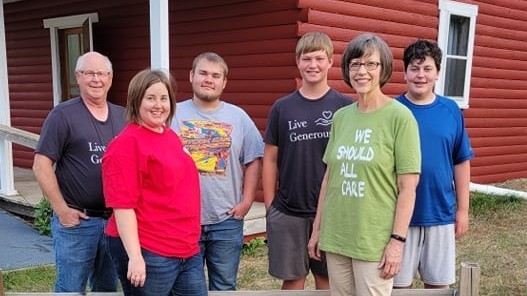 She has a passion for missions. At all the congregations she has served, missions and community outreach are a focus. Shoebox Christmas, youth mission trips, Coats for Kids, are just a few of the mission projects Pastor Lou has championed.
"Missions have been at the heart and soul of my ministry and who I am," Pastor Lou said.
Advice that she would give to others continuing or entering ministry is advice Pastor Lou received from Pastor Rick Fossum when she left Vincent United Methodist Church to become a licensed local pastor.
"I will still remember Rick looking me right in the eye and saying, 'Just go and be you, because you are who God called.' It was exactly what I needed to hear because I'm good at comparing myself to everybody else," said Pastor Lou.
In retirement, Lou plans to live into and look for ministry opportunities in Bismarck, North Dakota.
Bismarck is a central location with family and friends in Hettinger, Minot, Fargo, and in South Dakota. She hopes to help her niece out in a photography shop she has opened.
"I'm not ready to be fully retired, to be honest. I just don't want to be the responsible one because I've been responsible since I was 15," she said.
She expresses gratitude for a joyful journey. "There's more joy to this journey than we sometimes give credit. There are so many things that can make ministry hard. When you stop and look back, you can see all the sparks of brightness. You can get really mired down in the denominational stuff and the difficult people. But when I step back, I can see so many bright spots of joy and surprise in all of that," said Pastor Lou.