By:
Doreen Gosmire, director of communication, Dakotas UMC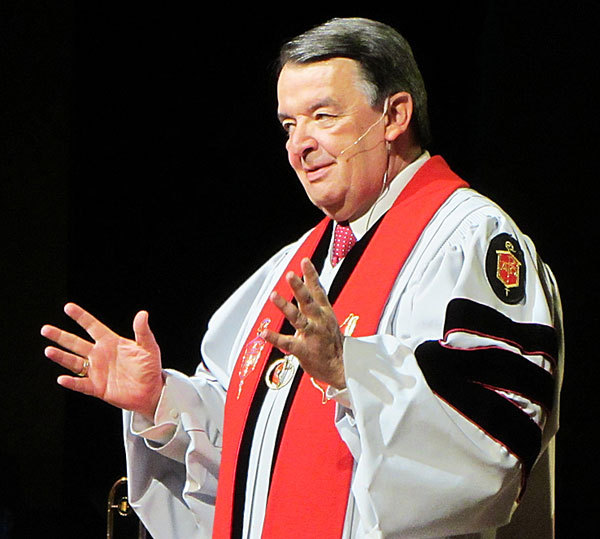 Kind, courageous, gracious, fun sense of humor, empowering, words that Dakotas Conference leaders use to describe Bishop Micheal Coyner, who served as the resident Bishop for the Dakotas Area from 1996 to 2004.
Bishop Michael Coyner, died January 8, 2020. Bishop Coyner had been diagnosed with esophageal cancer that had spread to his liver.
Reverend Dwight Meier worked side-by-side with Coyner as a district superintendent and also as the assistant to the Bishop. Meier saw Bishop Mike as a leader filled with grace and kindness, and a keen sense of humor.
"He was so full of grace and kind. I enjoyed working with him. He openly listened to anyone," says Meier. "I really enjoyed his sense of humor. He was pretty sharp and could catch you off guard. The Dakotas landscape fascinated him."
Coyner wrote inspirational devotionals and sent them electronically to clergy and lay leaders in the Dakotas. He published a book of his writings about the Dakotas, Prairie Wisdom: Reflections on Life in the Dakotas.
Naomi Bartle, who worked as Bishop Coyner's administrative assistant, remembers Coyner as a leader with a strong work ethic, a person who would get things done. "I loved working with Bishop Mike. We both liked to get things done. We just clicked that way," says Bartle. "He was a leader with a great mind and a great soul. He loved The Church."
In the spring of 1997, the Red River Valley in North Dakota experienced devastating flooding. Rev. Doug Diehl, currently retired, served as the pastor at Zion UMC in Grand Forks during the flood and later as a district superintendent. He remembers the leadership, presence, and support from Bishop Coyner.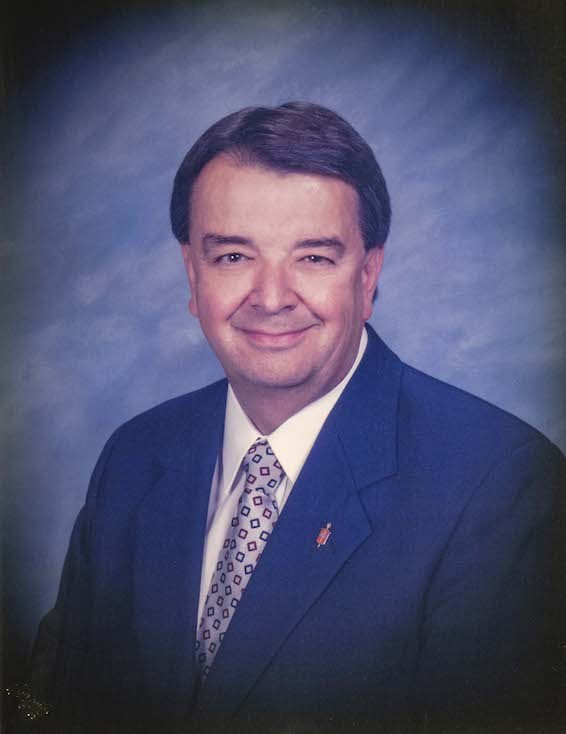 "The flood was overwhelming to the people of Grand Forks and me," says Diehl. "Bishop Coyner constantly checked in with me, provided me support and encouragement. He had the Minnesota and Dakotas cabinet come to Grand Forks and help."
Meier recalls the effort that Bishop Mike made to have the conference trustees build a warehouse in Fargo during the flood. "He asked the trustees to build a warehouse to serve the people of the Red River Valley. It was a great support to everyone, a place to collect and distribute donations during the flood. All denominations used the distribution center. The work could not have gotten done without the warehouse and Bishop Mike's leadership," says Meier.
Diehl describes the warehouse as a lifesaver. "We needed a distribution center, and he made it happen. He also got people in place to assist me and many others."
Reverend Howard Grinager, who serves as interim pastor of First United Methodist Church in Brookings, South Dakota, served as a district superintendent for three years with Bishop Coyner, says, "He had a strong desire to see churches grow. He wanted to equip the church and give them tools for ministry. I really respected how he wanted the churches to do the ministry that God was calling them to do," says Grinager.
Several clergy that served on the cabinet during Coyner's tenure in the Dakotas noted that he had a high level of trust for the cabinet members and clergy. He empowered the leaders around him.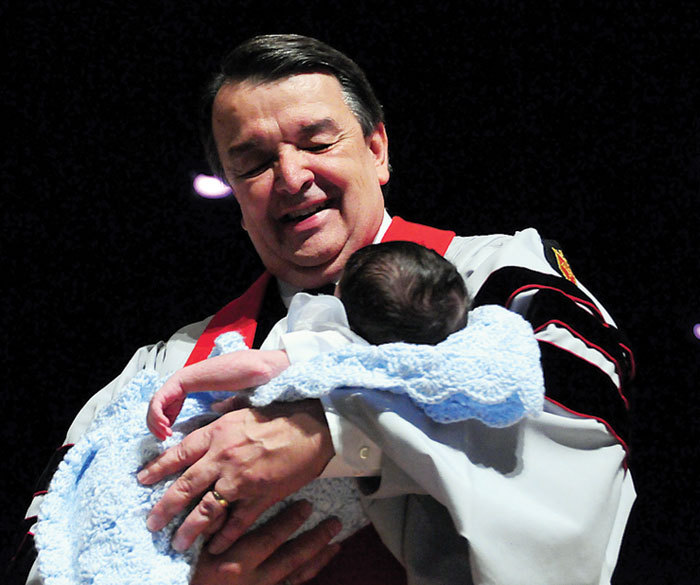 Reverend Penny Eberhart, who served as the superintendent for the Central District for three years, says, "Bishop Coyner built collegiality and comradery. He empowered us to do our work and trusted that we would."
Reverend Art Scanson, who served as the superintendent for the Northwest District when Coyner was the resident Bishop for the Dakotas, shares, "He was so personable. You knew he cared about you and for you. Clergy felt cared for under his leadership. Bishop Mike was great at celebrating the successes of everyday life. But he also recognized you for the tough decisions and struggles."
In 2004 Bishop Coyner was assigned to the Indiana Area. There, he served three four-year terms and oversaw the merger of the North and South Indiana conferences in 2010 into a single regional body. In 2012-16, he also was board president of the General Council on Finance and Administration, the denomination's finance agency. He retired in 2016.
Coyner kept in contact with many of the people he met in Dakotas. He and his wife Marsha hosted many visitors in their home in Indiana. He made several trips back to the Dakotas and kept connected electronically.
He served churches of various sizes in the North Indiana Conference, served as a District Superintendent, and was also the Executive Assistant to the Bishop. He was elected a bishop of the United Methodist Church in 1996 and was assigned to serve the Dakotas Area, where he served two terms.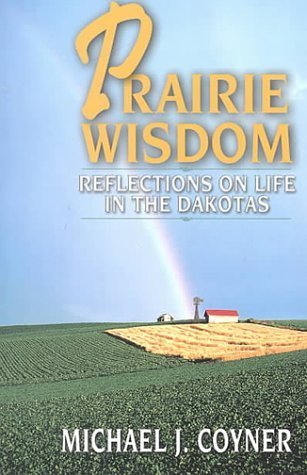 He is the author of several articles and three books from Abingdon Press: Making a Good Move: Opening the Door to an Effective New Pastorate (1999), Prairie Wisdom: Reflections on Life in the Dakotas (2000), and The Race to Reach Out: Connecting Newcomers to Christ in a New Century (2004). Bishop Mike also wrote a weekly e-mail devotional article entitled "An E-pistle from Bishop Mike," which was sent to hundreds of pastors and laity in the Indiana Area and beyond.
A memorial service for Bishop Coyner will be at 11 a.m. Eastern Time Saturday, January 18, at St. Luke's United Methodist Church, 100 W. 86th St., Indianapolis. He is survived by his wife, Marsha England Coyner, his daughter Laura Coyner Peace (Adrian), his son Steve and his five grandchildren: Ashlee Rodriguez, Brianna Peace, Austin Peace, Leah Coyner, and Alec Peace.
Messages of sympathy can be mailed to:
Mrs. Marsha Coyner
7006 Bluffridge Way
Indianapolis, IN 46278-2812