By:
Doreen Gosmire, director of communications, Dakotas UMC
"I am a product of a mentoring culture. I was not born a leader. I was raised to be a leader by others who very intentionally invested in me. Even as a teenager, trying to understand the Spirit stirring within me, many pastors and lay leaders took an interest in me. They encouraged and guided my explorations. I was provided wonderful opportunities to test my skills, develop my confidence, and competencies, long before I had any business doing anything in ministry." Bishop Bruce R. Ough, resident bishop for the Dakotas-Minnesota Area of The United Methodist Church, shared these words at the Bishop Bruce and Char Ough Scholarship Endowment Dinner.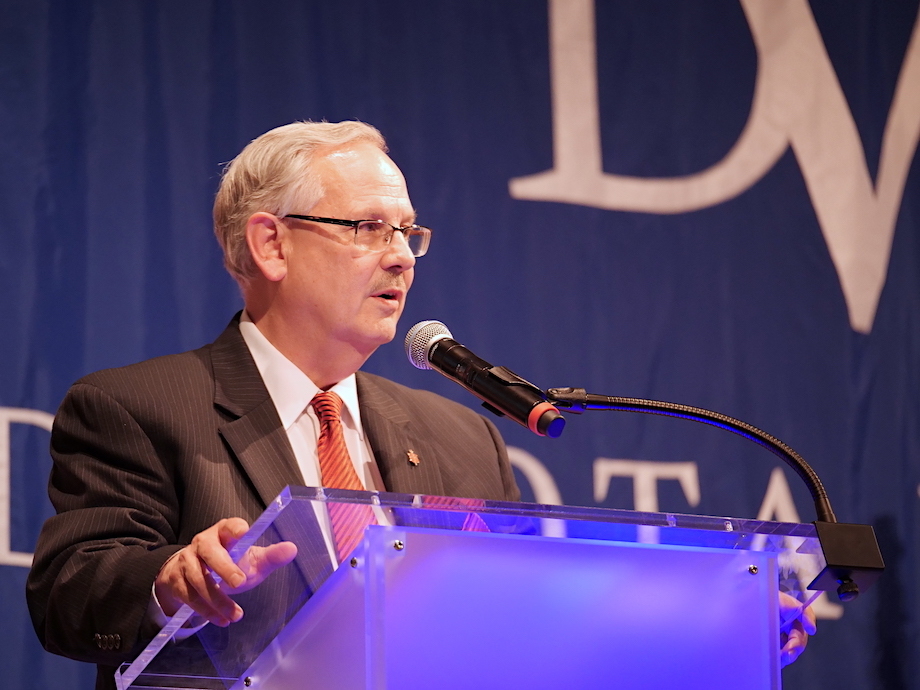 United Methodists from across North and South Dakota gathered at the Sherman Center on the campus of Dakota Wesleyan University to celebrate the leadership of Bishop Bruce R. and Char Ough. The celebration was the launch of the Bishop Bruce R. and Char Ough Scholarship, an endowment fund, that will provide funding to award an annual scholarship for a Dakota Wesleyan undergraduate student who is discerning a call to ministry.
The event was a collaborative effort of the Dakotas United Methodist Foundation, Dakotas Conference, Dakota Wesleyan University, and the United Methodist Higher Education Foundation.
"The United Methodist Church has been richly blessed to have Bruce Ough serve in this critical time in our denomination's history. His leadership, wisdom, and his steady hand continues to give us confidence as we find a way forward. The Dakotas Conference has considerable pride in knowing that we helped to nurture Bruce in his ministry. We take great joy in having Bruce and Char come home to us in these last years of active ministry. Thank you for all you have done for us and with us." Rev. Bill Bates, a retired pastor who serves Ben Claire United Methodist Church, spoke these words of acclamation during the dinner event.
Bishop Bruce Ough is the resident bishop of the Dakotas-Minnesota Area of The United Methodist Church, where he has served since September 1, 2012. Ough was elected and consecrated as a bishop in July 2000. He served the West Ohio Area from 2000-2012. He is a graduate of North Dakota State University and grew up in the Williston area.
Bishop Ough chaired the United Methodist Connectional Table for the 2012 to 2016 quadrennium. He served a two-year term as president of the Council of Bishops 2016-2018.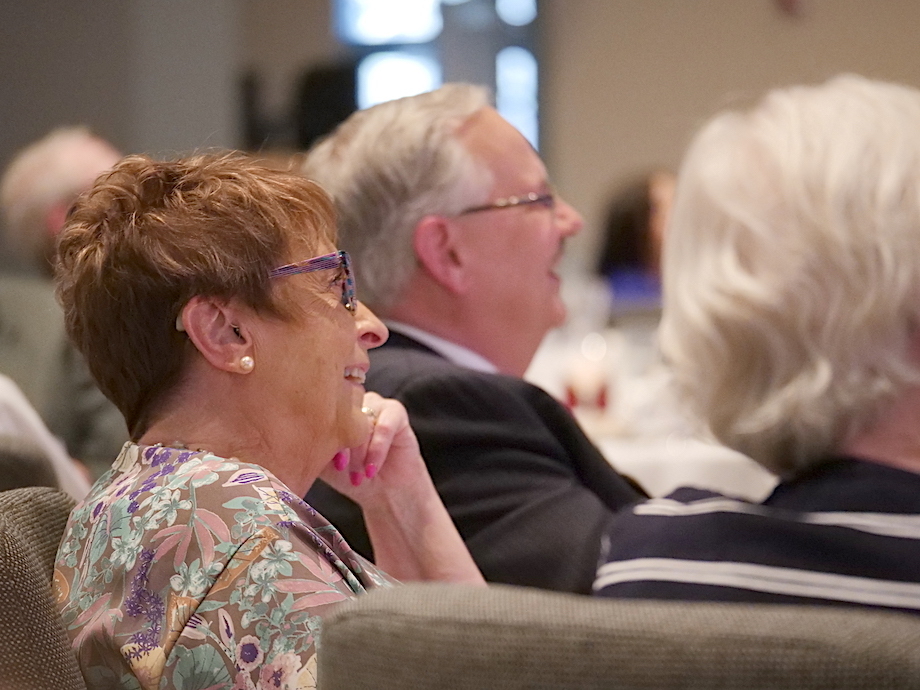 The Oughs have led the Dakotas Conference to embrace a culture of raising the next generation of spiritual leaders, a culture of multiplying and revitalizing congregations, and a culture of abundance. To fund the cultural shifts, Bishop Ough provided leadership for Thrive: Strength for today, Hope for tomorrow, a $3.5 million capital campaign. Under his leadership, the Dakotas-Minnesota Area was the recipient of a $1 million Lilly grant to address the economic challenges that clergy face. In 2018, the Dakotas Conference was awarded a $1 million Thriving in Ministry grant, from Lilly Endowment, Inc., to fund the Higher Ground Initiative that will strengthen the spiritual, physical, and emotional health of spiritual leaders.
Thanael Certa-Werner, a recent Dakota Wesleyan University graduate, told those gathered that creating a legacy for education to honor Bishop and Char Ough is appropriate, reflects the values of their leadership, as well as the values of Dakota Wesleyan University, and The United Methodist Church. He served as an Elisha intern, an intership that provides college students the opportunity to explore ministry in action. The Elisha Project is one of the many clergy recruitment efforts to flourish under the leadership of the Oughs.
"My parents are both United Methodist pastors. I know what it is like to be involved in a church. I thought, what could this Elisha internship could offer me. I mean, I have seen it all," Certa-Werner says. "I was so wrong. I worked with campus ministry at Dakota Wesleyan and with Mitchell Fusion. I was able to see ministry in ways I had never seen it before. I was able to work with leaders across the Dakotas Conference and learn from them what it means to lead through relationships centered in Christ."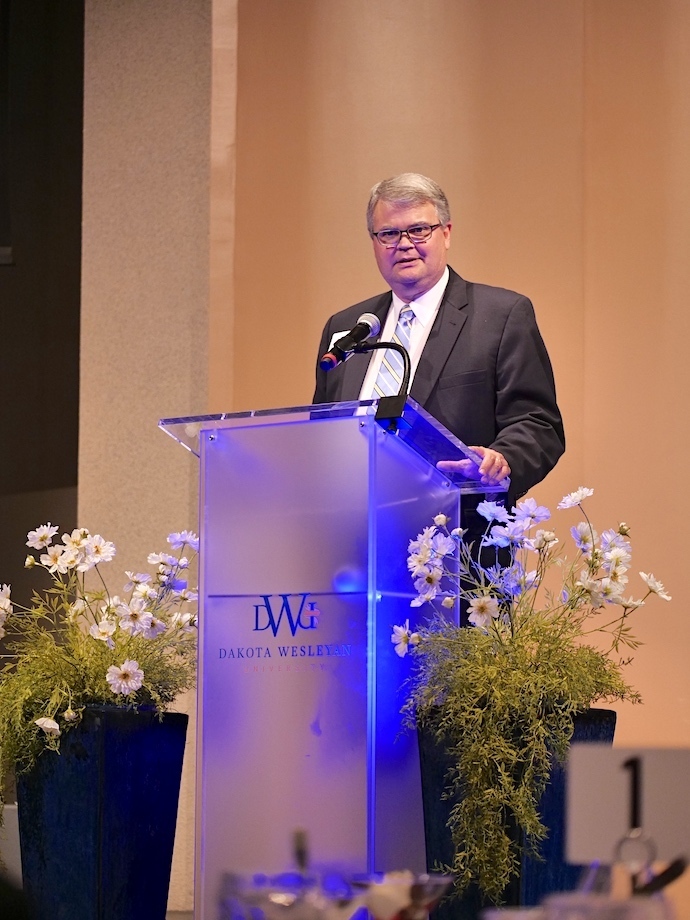 Rev. Rebecca Trefz, who serves as the executive director of ministries for the Dakotas Conference, reflected how the Oughs have mentored her and many other clergy through five ways and characteristics that all start with the letter s —steadfast, start, strength, sensitive, and secure. "I am grateful for all the ways that many other leaders and I have been mentored, challenged, and loved," says Trefz. "Because of the Oughs commitment to investing in current and future leadership, this scholarship endowment fund is so fitting. Thank you, Bishop and Char, for investing in us, and investing in the future leaders of the Dakotas. Thank you for bringing joy, laughter, and passion for Christ and His church. Thank you for simply being super."
Funds raised from the event are part of the $200,000 needed to establish the endowment that will support future clergy through a scholarship for a Dakota Wesleyan undergraduate student who has expressed a call to ministry. The scholarship is being facilitated by the United Methodist Higher Education Foundation. Robert Fletcher, president for the United Methodist Higher Education Foundation, expressed words of gratitude. "We are thankful to the Dakotas United Methodist Foundation and to Dakota Wesleyan University for the efforts to make this event a success," says Fletcher. "I am most grateful that you shared your Bishop to the entire global church at a time in our life when we so desperately needed it. There are many that are so grateful for the leadership of Bishop Ough. Char thank you for being there through it all."
Bishop Ough shared thoughts about the endowed scholarship fund. "It is an honor and blessing for Char and me to serve and be in ministry with you. This is home," shared Bishop Ough. "This scholarship is not meant to be about me. It is about the next generation that we are to call forth and mentor. I believe that preparing the next generation of spiritual leaders is every leader's responsibility and ultimately, the legacy I want to leave."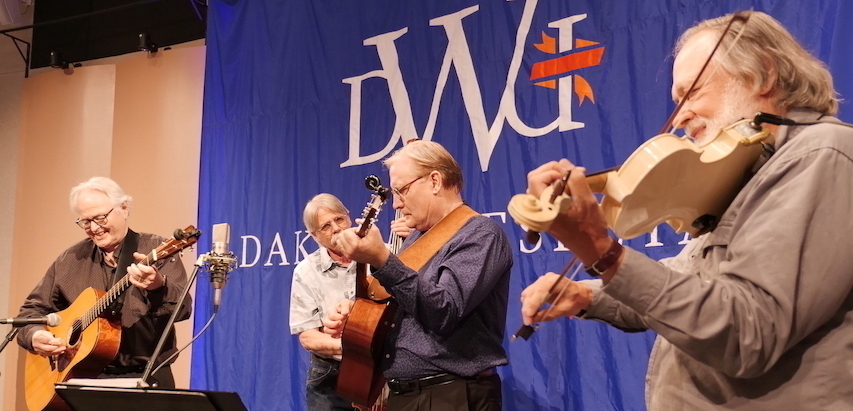 Music was provided throughout the dinner event and the evening concluded with several musical selections provided by East of Westreville. Sheri Meister, executive director and president of the Dakotas United Methodist Foundation, says, "This event launches the opportunity to honor the leadership legacy of Bishop and Char. I am grateful for the collaboration of the partners to make this a success, and to all of the donors who gave graciously." Donations to the scholarship endowment fund are being accepted, contact the United Methodist Higher Education Foundation for further details.