By:
Doreen Gosmire, director of communications, Dakotas UMC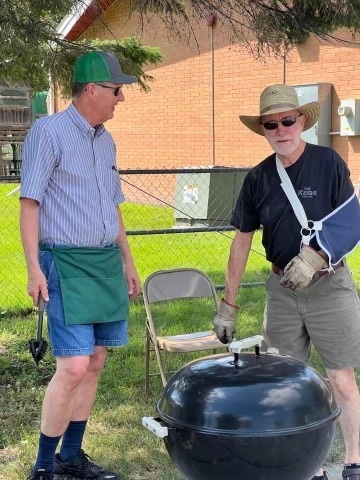 "When people lose hope, that is hard. I want to give people hope. Show them God's love. That is what Love Feast is all about. It is not about one person, one church, or one denomination. God unfolds. I give it to God, and mountains move," said Cheryl Klamm, a Zion UMC member and coordinator for the Love Feast.
Since 2002, Zion United Methodist Church in Grand Forks, North Dakota, has been serving a meal for its community—they call it Love Feast. Love feasts, or "agape meals," are simple communal meals that promote fellowship and Christian love among participants.
"Pastor Roy Caudill was serving at Zion. He encouraged us to serve a meal at the end of the month so that those who might be running low on cash or food stamps could have a nice, hot meal," said Klamm. "We got ready, and no one showed up."
Now, 21 years later, many people are showing up and experiencing God's love. Last month, members of Zion UMC served 239 meals—grilled hamburgers, side dishes, and ice cream.
"It breaks my heart that people are hungry. People are better when they are fed. Our main mission is that everybody is fed—people's bodies and souls," said Cheryl.
A meal is served the last Tuesday for 11 months of the year. There are ten other churches involved in the effort besides Zion UMC. The menu for the meals varies. It might be meatballs, mashed potatoes, and gravy; spaghetti, bread, and salad; or scalloped potatoes and ham. Anyone in the community is welcome to attend the meal. No questions are asked.
"We don't ask for any proof of need. Everyone's needs are different. You may be a busy family that doesn't have time to prepare a meal. You may be a person who lives by yourself, and you are seeking fellowship around a meal. We try to have a meal that our guests will not fix at home. Something hot and nutritious. In November, we have a full Thanksgiving dinner," Cheryl said. "We do not offer a meal in December because another group in the community does that."
The Love Feast team or core committee gathers twice a year to plan the meals. Klamm and representatives from the ten other churches plan the schedule. They talk about the processes and logistics for preparing and serving the meals.
"Communication and transparency are key," said Cheryl. "We talk about things like the process of serving, how to meet the needs of our guests, how to keep everyone safe, and the roles of the volunteers. We are all there for the same passion and purpose—to serve the people a meal and share God's love."
The group overseeing the month's meal selects the menu, gathers the food supplies, and prepares and serves the dinner. Zion UMC provides paper products through financial donations from the congregation.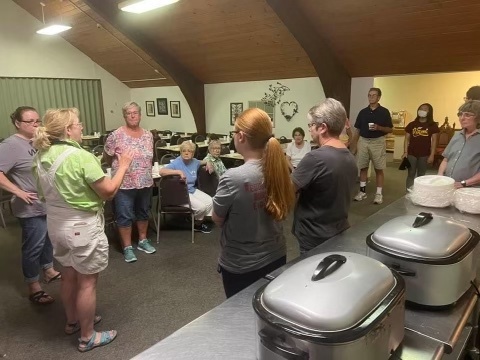 The meal is served from 5:30-6:30 p.m. "We try to keep the time consistent for our guests," Cheryl said. "We gather the volunteer team at 5 p.m. to review the details of serving, visiting with guests, and cleanup. We also pray. Serving is a blessing."
Music is also part of the evening. When Zion UMC serves, the congregation's praise band shares music during the meal.
"Music makes it feel fun. People feel more welcome and want to visit. We are seeing more families come because they feel welcome and safe," Cheryl said.
Klamm got involved as a volunteer when Zion UMC began serving Love Feast. Pastor Chang Yi invited her to consider being the coordinator when the previous person wanted to step away.
"I thought, that is a big job, but I could see God at work. I lean on the core team, and I appreciate the committee. I learned through my job as an X-ray technician that coordination and details are important. I hope I am a steady force guiding the group, handling logistics, and building connections," Cheryl said.
During the COVID pandemic, drive-through meals were offered. Cheryl shares, "It was a challenging time. It is so nice to be back serving meals in-house. Because of COVID, we now offer carry-out meals. People can come and get a meal to eat at home." Last month, there were 143 to-go meals.
In the future, the core committee hopes to get more volunteers in their thirties and forties and increase the number of guests served.
Cheryl sums up things this way. "It is spiritually uplifting, serving people food and visiting with guests. It feels good to build camaraderie with volunteers. I always pray that we are a blessing to each other because our guests bless us."
Zion UMC is a hub site for Imagine Day, September 30, 2023, from 10 a.m. to 4 p.m. Presenter Rev. Michael Beck will dive deeper into the Dinner Church model of Fresh Expressions. Fresh Expressions seeks to transform communities and individuals through championing, resourcing, and multiplying new ways of being church. Fresh expressions are your opportunity to invite new people to Jesus in new places, working alongside your current church setting.

Church was not always done the way we do it. There was a time when Christians gathered around tables, including the strangers and the poor, ate together, and talked about Jesus. This form of church mainly occurred during the first three hundred years of Christianity and was highly effective in bringing lost people to Jesus. While today's church is very meaningful to Christ-followers, it fails to help our lost neighbors and their way to the Savior. That is no small concern for Jesus' churches, all of which are called to be in the rescue business.